The purpose of this guide is to help you make informed decisions about giving CBD to your dog or other type of pet. It includes links to the latest research studies and answers to the most frequently asked questions by pet owners.
The section on CBD dosage for dogs gives you guidance on how much to give your dog as a starting point and a process for finding the optimal dosage level. This is particularly important since finding the optimal dose is key to effectiveness.
We've also listed the most popular brands and reviews of their products for those looking for recommendations. All of the brands on our recommended list offer high-quality, lab-tested CBD products from hemp that has been grown using organic farming practices.
CBDOilUsers.com is reader-supported. If you make a purchase using links on this page, we may earn a commission at no extra cost to you. Learn more.
Editor's Pick (High Potency)
Medium & Large Dogs
60 mg/ml drops
NuLeaf Naturals
20% off code: CBDOILUSERS
Also ships internationally
Editor's Pick (Low Potency)
Small Dogs
20 mg/ml drops & treats
Lazarus Naturals
20% off: ONETIME20 (1-time use)
or 5% off: CBDOILUSERS
Quick Overview of Giving CBD Oil to Dogs
Purchase lab-tested, organic CBD products from safe and reputable brands such as those listed above.
Choose a product with a strength or potency (based on milligrams of CBD per milliliter) that is appropriate for the weight of your dog. Generally, that means 20 mg/ml or less for small dogs, 20-50 mg/ml for medium-sized dogs, and 50 mg/ml or more for larger dogs.
Start out by giving them 1 milligram of CBD oil for every 10 pounds of body weight. Give them this amount to them 2 or 3 times per day and closely monitor your dog's reactions.
If you're not getting the desired results after a week of daily use, slowly increase the amount every 3-4 days until you find the optimal dosage level.
Consult with your vet if you have any concerns.
Frequently Asked Questions
What are the potential benefits of CBD for dogs?
The anecdotal evidence that cannabidiol (CBD) can be an effective supplement for humans has led a lot of dog owners to ask about using CBD oil for dogs. After all, dogs can suffer from many of the same ailments as humans, including pain, anxiety, arthritis, seizures, joint problems, and skin issues.
All mammals have endocannabinoid systems in their bodies. The endocannabinoids system regulates body functions such as movement, mood, metabolism, appetite, pain, immune functions, digestion, sleep, inflammation and reproduction. It's responsible for homeostasis— the balance, or perfect functioning, of the body's parts. For both humans and dogs, the cannabinoids in CBD products bond with brain receptors to increase the body's own ability to achieve wellness.
Although there is still a lot of research to be done on this subject, researchers have recently added to the growing body of knowledge. In this 2018 study, 80% of dogs with osteoarthritis showed improvement in pain and mobility. Epileptic dogs that were given CBD as a supplement to their seizure medication had fewer seizures than the control group in this 2019 study.
Based on feedback from users, we do know that CBD can work as well for dogs as it does for their humans. We also know that some veterinarians are now encouraging its use. It's recommended that you consult with your vet before giving CBD to your dog, especially if they are taking prescription medications.
Can I give "human version" CBD products to my dog?
Generally, yes. There are many dog owners who share the CBD product that they use themselves with their dog. There is typically no difference between CBD products for humans and the products that are marketed to be for dogs. It is recommended, however, that you avoid human CBD products that contain substances which may be harmful to pets such as artificial flavorings or essential oils.
Is it safe to give CBD oil with THC to my dog?
Yes. There are only trace amounts of THC in hemp-derived CBD products. By law, CBD products that can be purchased online or in local stores contains less than 0.3% THC. This small amount of THC isn't enough to be "toxic,' which means it won't get your dog high and loopy. Too much THC can be harmful for dogs, but the amount found in a measured dosage of hemp-derived CBD products won't cause harm.
How do I give CBD to my dog?
The majority of dog owners use the traditional CBD oil tinctures or drops that come in a glass bottle with a dropper top. For best results, place the drops under your dog's tongue. This direct application helps ensure that more of the CBD is absorbed into your dog's blood stream. You can also drop the oil onto their food or insert it inside a chunk of meat. 
CBD dog treats are the easiest way to give it to your dog. Just like any other dog treat, they will gobble them up and you know how much CBD is in each treat for easy dosing. The downside of the treats is that they are typically more expensive than tinctures and less of the CBD is absorbed. This is because since it has to go through the dog's digestive system.
Topical CBD products can be very effective for joint pain, skin rashes, and other conditions. You can just rub them into your dog's skin, where it can soothe and relieve discomfort.
Do I need to separate doses of CBD for dogs and prescription medications?
It depends. If your dog is taking prescription medications that are metabolized by the liver (around 60% of pet medications), it's typically recommended that you separate doses by 2 hours. If the medication is not one that is metabolized by the liver, then you generally do not need to separate them. Either way, we highly encourage you to speak to your veterinarian before starting a regimen of CBD oil to ensure that there aren't any interactions.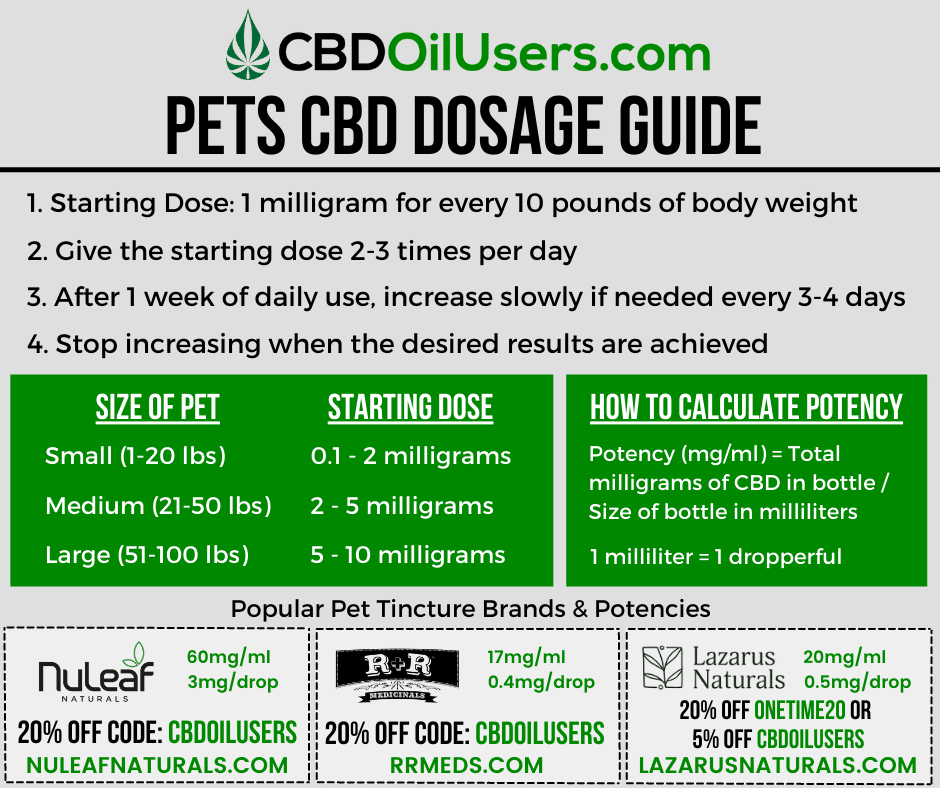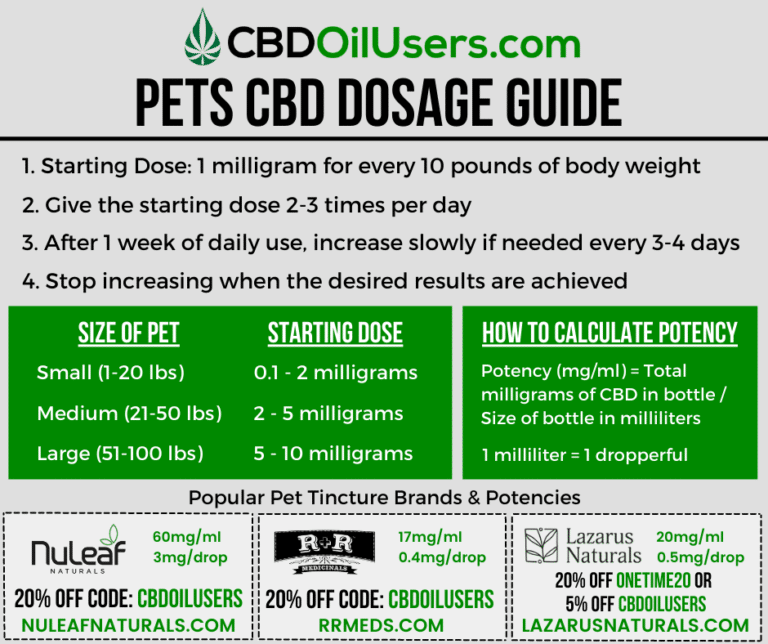 CBD Dosage for Dogs - A Guide to Finding Your Dog's Optimal Dose
As with humans, finding the right dosage of CBD for your dog is one of the most important but often overlooked factors in determining its effectiveness. The optimal dosage for each person and dog is different. That's because we each have a unique endocannabinoid system, body chemistry and physical condition. The same goes for our furry friends.
A couple of important things to know before getting started:
CBD dosage amounts are commonly expressed in milligrams of CBD given. Your bottle will typically say how many total milligrams of CBD are in the bottle. How much you give to your dog each day is also based on milligrams. We'll give you guidelines on how many milligrams to start with in the next section.
Different CBD oil products have different potencies. That is, some tinctures have more CBD per milliliter or drop than others. Potency is expressed as milligrams of CBD per milliliter. We'll cover how to calculate the potency of your product and how to translate milligrams to drops or milliliters for dosing purposes below.
The amount of CBD oil that you give to your dog will be influenced by their weight. You'll start with considerably less for a 5-pound chihuahua than a 70-pound labrador. So their weight should be considered when choosing a product. You'll want to choose a lower potency product if you have a small dog and a higher potency one for a larger dog.
How Much CBD Oil Should I Give My Dog as a Starting Point?
Based on user feedback and limited research studies, the best starting point for giving CBD oil to your dog is 1 milligram of CBD for every 10 pounds of body weight. This 1 milligram for every 10 pounds of weight can be given to your dog 2 or 3 times per day when getting started.  So for example, a 20 pound dog would receive 2 milligrams of CBD 2 or 3 times per day while a 100 pound dog would start with 10 milligrams of CBD 2 or 3 times per day.
How Do I Translate Milligrams of CBD to Drops or Milliliters Given?
You'll need to know the potency of your particular product to correctly measure doses. To calculate the potency of your tincture, simply divide the total milligrams of CBD in the bottle by the size of the bottle in milliliters. Let's illustrate this with a couple of examples that demonstrate the importance of knowing the potency of your product.
Example 1: 5 milliliter bottle with 240 total milligrams of CBD. This product has a potency of approximately 50 milligrams of CBD per milliliter (240mg/5ml)  which is considered high potency. That translates into about 2.5 milligrams of CBD per drop. So if you wanted to give 5 milligrams of CBD to your dog, you would give them 0.1 milliliters or 2 drops.
Example 2: 30 milliliter bottle with 150 milligrams of CBD. This product has a potency of 5 milligrams of CBD per milliliter (150mg/30ml) which is considered low potency.  That translates into about 0.25 milligrams of CBD per drop. So if you wanted to give 5 milligrams of CBD to your dog, you would give them 1 milliliter or 20 drops.
Doing these calculations can be understandably frustrating and confusing. We have created a CBD dosage calculator to do the math for you and convert the desired dose in milligrams to milliliters and drops.
How Do I Find the Optimal CBD Dose for My Dog?
The process of finding the optimal CBD dosage for dogs typically takes some time, experimentation, and patience. We recommend that you use the guidelines above to determine a good starting point. If the starting dose is not producing the desired results after about a week of daily use, increase the dose gradually every 3-4 days. Stop increasing when the desired results are achieved. This dosage level is considered the optimal dose and you should be able to continue administering that amount going forward.
Be sure to watch your dog's reactions closely throughout the entire process. If there are significant side effects or symptoms worsen, you may be giving them too much and you can try lowering the dose. But when in doubt, stop administering the product and consult with your veterinarian.
What Do I Do if the Optimal Dose is No Longer Working?
It's not uncommon for the optimal CBD dosage for dogs to change over time after continued use. If the dosage level that worked previously is no longer working, you can try slowly increasing the dose or restart the process of starting low and slowly increasing until you find the new optimal dosage level.
Our Reviews of the Best CBD Brands for Pets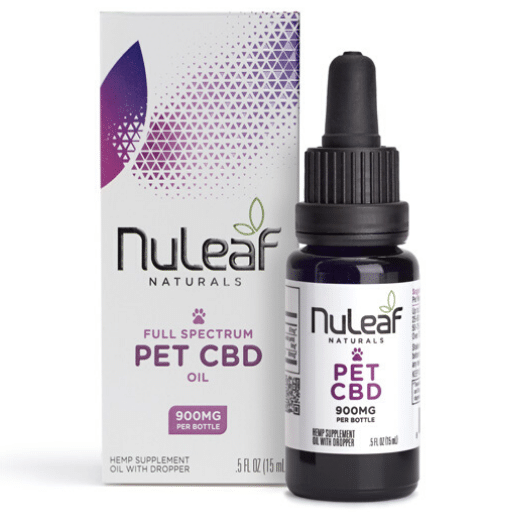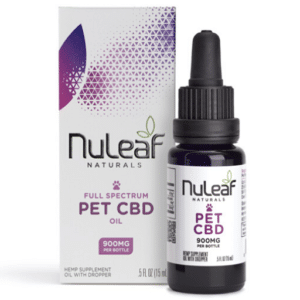 20% off with code CBDOILUSERS at checkout
NuLeaf Naturals is the most popular choice for high-potency full spectrum CBD oil for dogs and other pets. All of their tinctures have 60 milligrams of CBD per milliliter (3 mg per drop) so are appropriate for large and medium-sized dogs. The smallest bottle has approximately 100 drops and larger bottle sizes are also available. 
Free priority shipping on orders of $74 or more to all 50 U.S. states. Also ships internationally to most countries except Canada.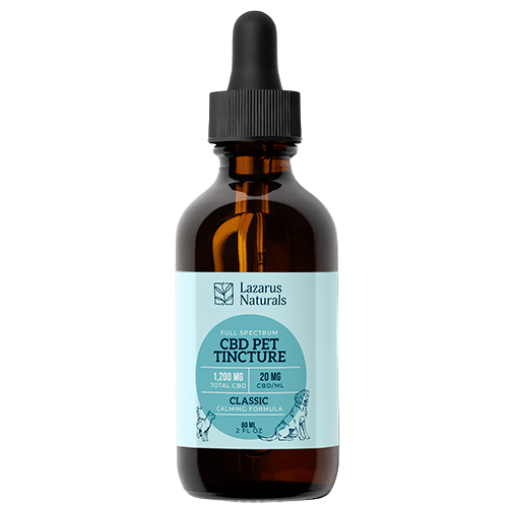 20% off code ONETIME20 or 5% off code CBDOILUSERS
Lazarus Naturals offers the lowest prices in the industry and is a favorite among our Facebook group members. They have 3 pet formulations, including a full spectrum, THC free unflavored, and THC free salmon flavored version. Both have 20 milligrams of CBD per milliliter and use MCT coconut oil as the carrier oil. The human version, unflavored high-potency full spectrum tincture (50 mg/ml) can also be given to dogs. 
Free shipping on U.S. orders over $25. Also ships internationally except Canada, the UK and Australia.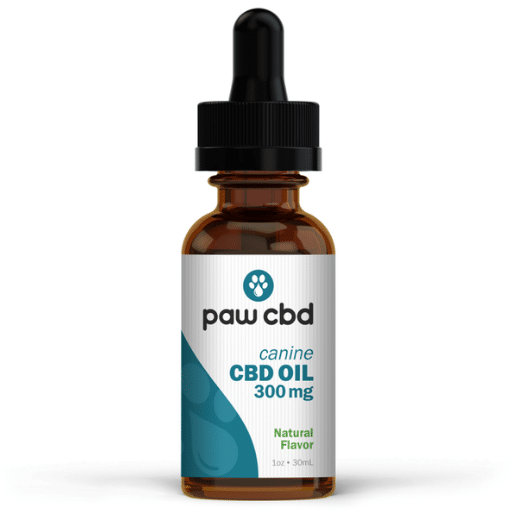 20% off with code CBDOILUSERS at checkout
The Paw CBD line of CBD oil for dogs from cbdMD includes various potencies of CBD tinctures in a 30 milliliter bottle. Potency options range from 5 mg/ml (150 mg bottle) up to 100 mg/ml (3,000 mg bottle). Drops are available in natural or peanut butter flavor. All products are broad spectrum so are THC free based on lab testing.
Free shipping on U.S. orders of $59 or more and 60-day money back guarantee.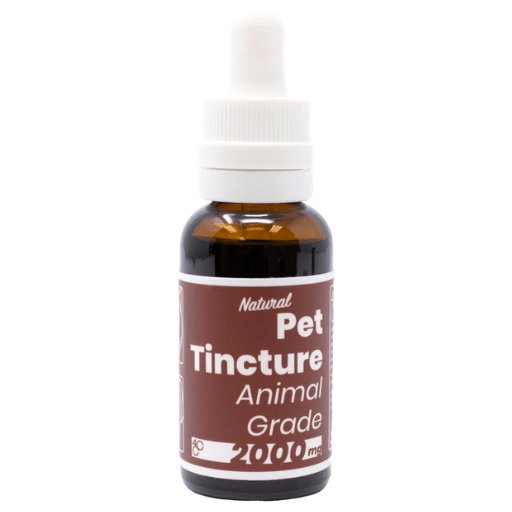 25% off with code CBDOILUSERS at checkout
4 Corners Cannabis is a small batch, seed-to-sale company based in Colorado. They've developed a loyal following of customers who believe in the premium quality of their full spectrum products. Their pet tincture is specially formulated for animals and is available in potencies ranging from 10 mg/ml (100 mg bottle) up to 67 mg/ml (2,000 mg bottle).
Free priority shipping to all 50 U.S. states.
CBD for Cats and Other Pets
All of the information presented above about CBD for dogs is also applicable to other pets. Members of our CBD Oil for Pets group on Facebook have reported giving it to their cats, horses, rabbits, ferrets, chickens and other furry friends for a variety of reasons.