Fab CBD is a safe and reputable online seller of CBD products that has quickly become one of the most popular brands on the market. Their success can be attributed to their focus on product quality and the needs of their customers. 
They were one of the first brands to offer flavored full spectrum CBD oil drops for those who don't like the "earthy" taste of natural tinctures. Additionally, they offer high-potency tinctures (up to 80 milligrams of CBD per milliliter) for those wanting higher strength products at affordable prices.
If you're looking for a CBD brand with high-quality products that focuses on results instead of hype, then Fab CBD might just be the perfect choice for you.
CBDOilUsers.com is reader-supported. If you make a purchase using links on this page, we may earn a commission at no extra cost to you. Learn more.
30% off with code CBDOILUSERS at checkout
Fab CBD Performance Ratings
Our brand performance ratings are based on our extensive, objective research into each brand that we review. They also reflect our expert knowledge of the industry from reviewing and comparing the top CBD brands since 2017. Lastly, we incorporate direct consumer feedback that we receive each day from the nearly 300,000 members of our CBD user groups on Facebook.
Fab CBD has received an overall average rating of 4.7 stars out of 5 based on the criteria outlined below. We believe that these measures of performance are most important to consumers as they evaluate and compare different CBD brands.
All Fab CBD products are made from premium hemp that is grown organically in Colorado. This is a brand that is obsessed with quality and they work closely with their farms and manufacturing partners to ensure the highest quality products.
Lab testing is performed by ProVerde Laboratories, a highly respected testing facility based in Massachusetts. A recent full-panel lab report for each product type is easily accessible on their website. An opportunity for improvement is to post lab reports for each individual batch.
The price of their popular 2400mg full spectrum tincture is currently $129. That's a cost per milligram of $0.054 which is on the lower end of top brand prices that range between $0.02-$0.20 per milligram. Be sure to use the discount code listed above for the best deal.
The Fab CBD reviews posted by customers on verified review sites and in our Facebook groups are overwhelmingly positive. Their product quality, effectiveness, and great customer service are most commonly mentioned in user reviews. 
Fab CBD has a strong reputation for customer service and interacting with their customers who have questions or concerns. They have a dedicated customer support phone number and email address on the "Contact" page of their website. 
What Sets Fab CBD Apart From Other Brands?
Best tasting full spectrum flavor options (natural, citrus, mint, berry and vanilla)
Choice of potency (from 10 mg/ml in 300mg bottle to 80 mg/ml in 2400mg bottle)
Highly-rated CBD body salve for localized topical relief
30-day money back guarantee
Customer rewards program
30% off with code CBDOILUSERS at checkout
Sublingual drops (tinctures) are the most popular way of taking CBD. Tinctures come in glass bottles with a dropper top to measure your serving size or dosage. Place the drops under your tongue and hold them there for at least 45-60 seconds for maximum absorption rates.
Accurate and precise dosing by drops or milliliters
Higher absorption rates than gummies or capsules
Lower cost per milligram than other delivery methods
Fab CBD has 4 flavor options for those who don't like the "earthy" taste of natural tinctures
Organic MCT coconut oil is the only carrier oil option (relevant for those with a coconut allergy)
Dosing by drops or milliliters of tincture can be confusing for new users (view our dosage guide for assistance)
Fab CBD's flagship product is their full spectrum tinctures. They're made with whole-plant hemp extract that is sourced from organically-grown Colorado hemp. All tinctures come in tinted 30 milliliter bottles to extend the product's shelf life by minimizing exposure to light. They also all come with graduated droppers for easy measurement by milliliter.
Please note that the benefits listed are based on our research and user reviews. The effects of specific products commonly vary by individual.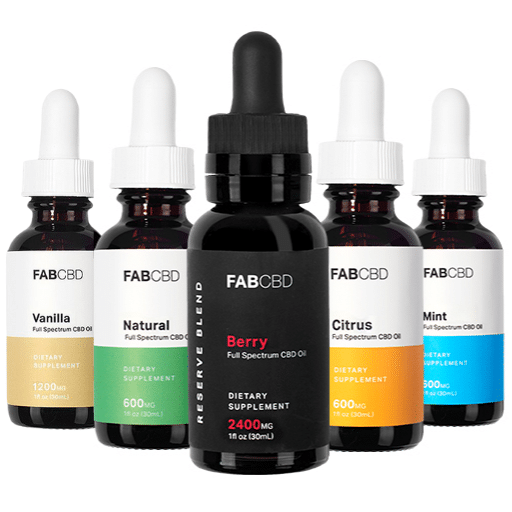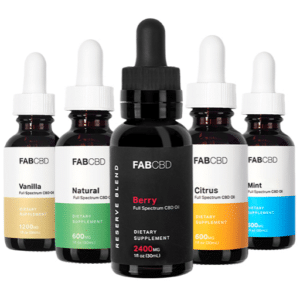 Full Spectrum CBD Tincture
Benefits: General wellness, pain management & recovery, stress & anxiety
Type: Full Spectrum (less than 0.3% THC)
Potency: Low Strength 300mg (10mg/ml), Medium Strength 600mg (20mg/ml), Regular Strength 1200mg (40mg/ml) or Extra Strength 2400mg (80mg/ml)
Available Sizes: 30 ml
Flavor Options: Natural, Mint, Citrus, Berry or Vanilla
Full Spectrum CBG Tincture
Benefits: Cognitive support, focus & energy, sleep
Type: Full Spectrum (less than 0.3% THC)
Potency: Extra Strength 2400mg (80mg/ml), 1:1 ratio of CBD and CBG
Available Sizes: 30 ml
Flavor Options: Mint or Citrus
Gummies are a popular way of taking CBD because of their taste and convenience. Each fruit-flavored edible has a prescribed amount of CBD which also makes dosing easier. 
More convenient to take when on the go
Better tasting than full spectrum unflavored tinctures
Easier to measure dosage (they can also be cut into pieces) 
Lower absorption rates than tinctures
Longer time to take effect (up to 1-2 hours)
Higher cost per milligram than tinctures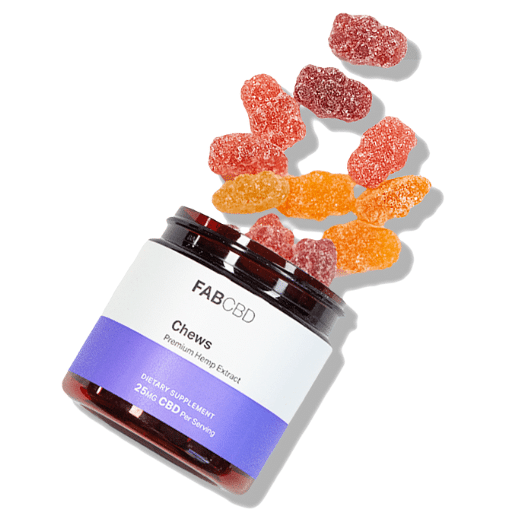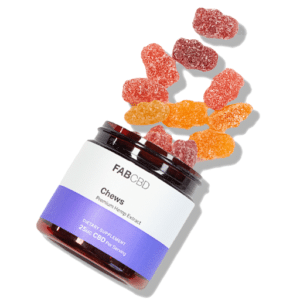 Benefits: General wellness, stress & anxiety
Type: Isolate (THC free)
Potency: 25mg of CBD per gummy
Available Sizes: 30 count bottle
Assorted fruit flavors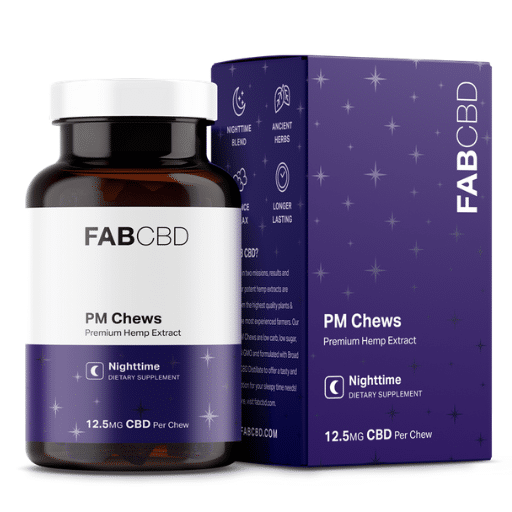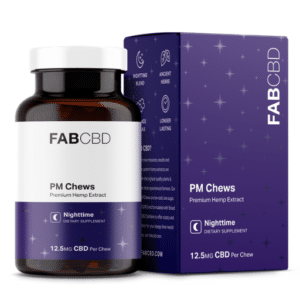 Nighttime Sleep CBD Gummies
Benefits: Sleep
Type: Broad Spectrum (THC free)
Potency: 12.5mg of CBD per gummy; other ingredients: 25mg L-Theanine, 5mg 5-HTP, 2.5mg Melatonin, 2.5mg Ashwagandha and 2.5mg GABA
Available Sizes: 60 count bottle
Acai berry flavored
Fab CBD has 2 full spectrum topical products in their product lineup. We particularly love the CBD Body Salve and rate it as one of the best CBD topicals on the market.
Pro Tip: When using topicals, the CBD won't enter your bloodstream so its benefits will generally be limited to the area where applied.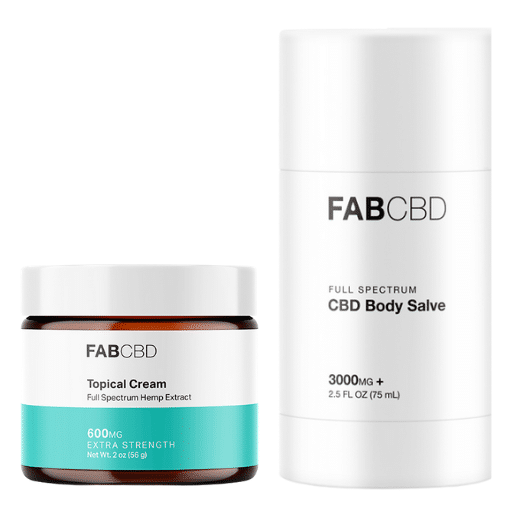 Full Spectrum Body Salve & Topical Cream
Benefits: Localized relief of discomfort in muscles & joints
Type: Full Spectrum
CBD Body Salve: Roll-on stick with fast-acting heating and cooling effect and a calming menthol scent. 1000mg (1 ounce) or 3000mg (2.5 ounces).
Topical Cream: Light, silky-smooth texture and blood orange scent. 600mg of CBD in a 2 ounce jar.
30% off with code CBDOILUSERS at checkout
Have questions about using the discount code? View our Fab CBD coupon page for answers to frequently asked questions about using it on the official Fab CBD website.
Third Party Lab Reports & Testing Results
Fab CBD is committed to transparency and third party lab testing of their products to ensure the quality and safety of their products. Screenshots of recent lab results from ProVerde Laboratories are posted on their website by product.
Lab results for your specific product batch are available upon request by sending them an email at [email protected].
Fab CBD reviews by real users are shown in the comments section below.
If you've used CBD products from Fab CBD, please take a few minutes to write your own Fab CBD review. Your review will help other users get informed and find the CBD products that are right for them. Thank you!