Gummies are a tasty and convenient way to take CBD. These CBD-infused edibles typically contain between 5-50 milligrams of CBD in each gummy so dosing is easy and straightforward. Gummies are currently the preferred method of taking CBD for about 10% of users. But their popularity has been increasing and is leading more companies to add gummies to their line of products.
CBD (short for cannabidiol) is one of at least 113 chemical compounds known as cannabinoids that are found in the cannabis plant. Hemp-derived CBD gummies are federally legal in the United States and won't get you high since they contain little or no THC.
Why Use CBD Gummies?
The 3 most popular reasons that users prefer gummies to other ways of taking CBD are:
Taste. Most CBD products, and full spectrum tinctures in particular, have a very "natural, earthy" taste. While some don't mind or even like the natural flavor, others find the taste to be unbearable. In contrast, most CBD gummies are specially formulated with fruit flavors to taste great.
Convenience. Gummies are unquestionably the easiest way to take CBD. You consume them just like a normal gummy bear. Just pop a CBD gummy into your mouth and chew. They are much easier and more convenient than holding drops under your tongue or needing a drink to take a capsule.
Easy dosing. Each gummy has a defined amount of CBD in it. So it's easy to know how many milligrams of CBD you are consuming. Unlike tinctures, there's no need to calculate milligrams of CBD per drop and then count drops to get your desired dose.
CBDOilUsers.com is reader-supported. If you make a purchase using links on this page, we may earn a commission at no extra cost to you. Learn more.
Most Popular CBD Gummy Brands
How to Choose CBD Gummies for Your Needs
The good news is that you have a lot of options when buying CBD gummies online. But some of the terms used on websites selling these products can be confusing, especially for beginners. It's important to know that there is no "best" brand or product for everyone. Our goal is to give you the information that you need to make the choice that best fits your needs. Start by answering these 3 questions:
Do you want full spectrum gummies or THC-free gummies? The answer to this question may depend on whether you have drug testing concerns. While there is some risk of testing positive on a drug test with any CBD product, the chances are lower with THC-free products.
How many milligrams of CBD do you want in each gummy? Most people start out at lower doses and increase slowly as needed until they get the desired effect. CBD gummies are available in different strengths that typically range from 10-50mg of CBD per gummy. You can also always cut a higher strength gummy into smaller pieces to adjust dosage for your needs.
Do you have dietary preferences? Some CBD gummies are vegan or gluten-free whereas others are not. We also highly recommend that you read the ingredients list of any product that you are interested in to avoid any unpleasant surprises.
Editor's Pick for Full Spectrum - R&R CBD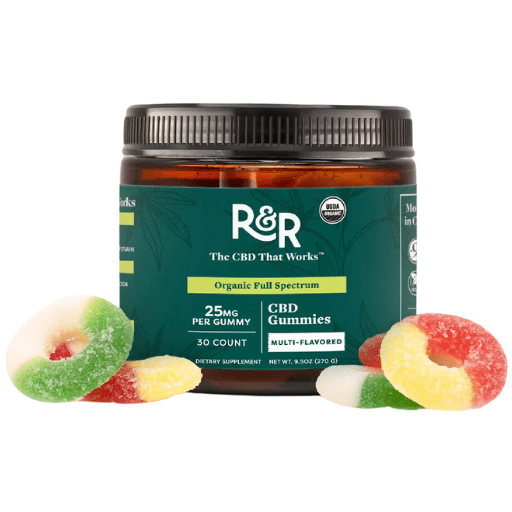 Full spectrum or THC-Free: USDA-certified organic hemp, vegan, all natural ingredients
Flavors: assorted strawberry, green apple and peach flavors
Strength: 30mg of CBD per gummy (900 total milligrams in bottle)
30-day money back guarantee
Free shipping to all 50 U.S. orders; also ships internationally to Australia, Canada, France, Germany, Israel, New Zealand, Norway and the United Kingdom.
R&R CBD gummies are truly one-of-a-kind. They partnered with a local candy manufacturer in Denver to create some of the best tasting gummies on the market.  Their larger gummy rings spread out the hemp flavor that is present in many other gummies, so they taste great and are family-friendly.
We love that the hemp used in their gummies is USDA Certified Organic. The extract is truly infused into the formula – not sprayed on as with lower quality brands. They test multiple times during production to ensure homogeneity across the run, and publish a full battery of testing results for each batch. 
They use their proprietary cherry strain of hemp raised outdoors in CO, which is unique to their brand. This brings a level of cannabinoids, terpenes, flavonoids, and other phytonutrients to the hemp extract that is unique to this brand. They are formulated naturally and are colored and flavored with fruit extracts, so they maintain a natural basis while staying both gluten-free and vegan. 
Ingredients: Organic Full Spectrum Hemp Extract, Sugar, Tapioca Syrup, Dextrose, Pectin, Citric Acid, Colored with Fruit and Vegetable Extracts, Sodium Citrate, Natural Flavor, Starch, and Potassium Citrate.
20% off with code CBDOILUSERS at checkout
Editor's Pick for THC Free - cbdMD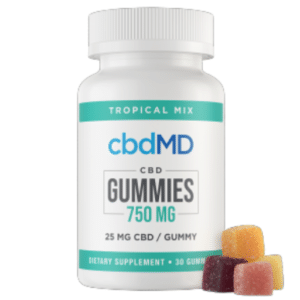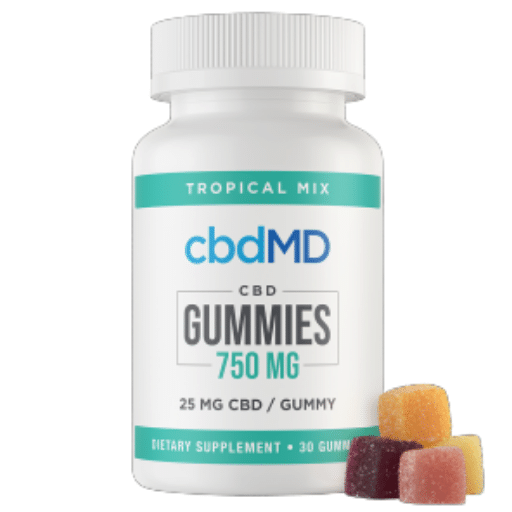 Broad spectrum (THC free): non-GMO, gluten-free and vegan
Flavors: tropical mix
Strength: choice of 25mg, 50mg, 100mg or 200mg of CBD per gummy
60-day money back guarantee
Free shipping on orders over $59 to all 50 U.S. states
cbdMD gummies are our top pick for THC-free gummies because they score high on all of our evaluation criteria. This includes product quality, taste, price, and customer reviews. They were also voted "favorite CBD gummies" by members of our Facebook group.
The cbdMD gummies are made from their proprietary broad spectrum hemp extract. So they are THC free but include other cannabinoids and terpenes in addition to CBD. They are also gluten-free and vegan for those with those dietary preferences.
Ingredients: CBD, Organic Tapioca Syrup, Organic Cane Sugar, Water, Pectin, Natural & Artificial Flavors, Organic Fruit And Vegetable Juice (For Color), Citric Acid, Sodium Citrate, Malic Acid, Organic Sunflower Oil, Organic Carnauba Wax.
20% off with code CBDOILUSERS at checkout
Full Spectrum Gummies - Extract Labs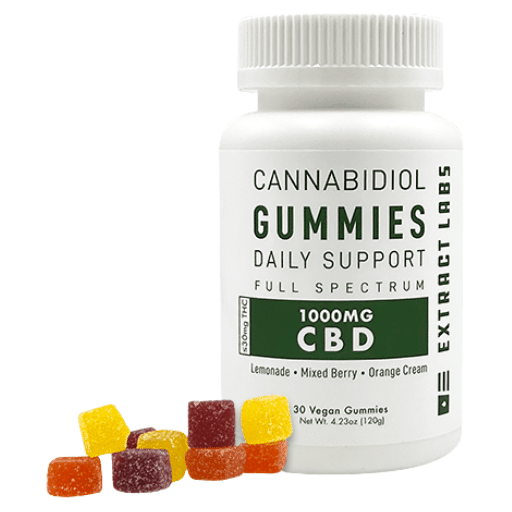 Full spectrum: all natural cannabinoids and terpenes (including up to 0.3% THC)
Flavors: assorted lemonade, mixed berry and orange cream flavors
Strength: 33mg of CBD per gummy (1000 total milligrams in bottle)
60-day money back guarantee
Free shipping on orders over $60; also ships internationally except Canada
Full spectrum CBD gummies aren't easy to find. Most of the gummies on the market have zero THC even though some are marketed as full spectrum. Extract Labs gummies are one of the best full spectrum options that we've come across based on product quality, taste and customer reviews.
Extract Labs gummies are truly full spectrum based on independent third party lab testing. They have an array of cannabinoids and terpenes in addition to CBD, including trace amounts of THC to create the "entourage effect."
Each bottle contains 30 gummies that each contain 33 milligrams of CBD. You can cut them into smaller pieces for lower doses. This is especially helpful when first starting a CBD regimen.
Ingredients: Organic Tapioca syrup, Organic Cane Sugar, Pectin, Citric Acid, Sodium Citrate, Naturals Flavors, Natural Colors (Organic Vegetable Juice, Annatto, Turmeric), Full Spectrum CBD Distillate.
25% off with code CBDOILUSERS at checkout
Calm Gummies - Charlotte's Web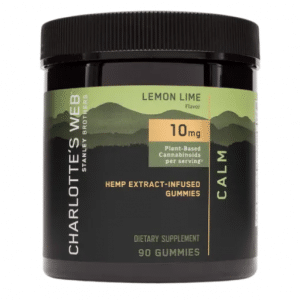 Full spectrum: made with the proprietary hemp genetics of Charlotte's Web including all natural phytocannbinoids and terpenes
Flavors: lemon lime
Strength: 5mg of CBD per gummy (available in 30, 60 and 90 count bottles)
Also available in a sleep formulation and recovery formulation
The Calm gummies from Charlotte's Web are formulated to help ease normal anxiety, encourage relaxation and manage everyday stress. They are full spectrum and infused with the same whole-plant hemp extract used in other Charlotte's Web products.
The Charlotte's Web gummies do not include additives or dyes and are flavored with natural juices. In addition to the Calm gummies, Charlotte's Web also has 2 other types of gummies. The Sleep gummies are formulated to promote regular sleep cycles and more restful sleep. The Recovery gummies help support healthy joints and mobility.
Each gummy contains 5 milligrams of full spectrum extract. The 10 milligram serving size stated on the bottle is based on their recommendation of 2 gummies per serving. 
Ingredients: CBD, L-theanine, Lemon Balm, Tapioca Syrup, Beet Sugar, Fructooligo-Sachachhia-rides, Water, Natural Flavors, MCT Oil, Pectin Organic Fruit and Vegetable Juice (color). Less than 1% of Malic Acid, Spirilina extract(color) Sodium Citrate Dihydrate, Organic Lemon Juice Concentrate, Citric Acid, Organic Sunflower Lecitihin, Tapioca Starch.
15% off with code CBDOILUSERS at checkout
Full spectrum: dairy free, fat free, and gluten free with no artificial sweeteners
Flavors: Acai flavored
Strength: 12.5mg of CBD per gummy (750 total milligrams in bottle)
30-day money back guarantee
Free shipping on orders over $99 to all 50 U.S. states
If taste and price are top priorities for you, then Fab CBD's gummies are definitely worth a look. The nighttime gummies come in a 60-count bottle with 12.5 milligrams of CBD per gummy. Also available in daytime formula.
Ingredients: CBD, L-Theanine, 5-HTP, Melatonin, Ashwagandha and GABA. Other ingredients are Tapioca, Sugar, Pectin, Natural Flavors, Sodium Citrate, Citric Acid, Malic Acid, Lactic Acid and Natural Colors.
30% off with code CBDOILUSERS at checkout
Sleep Gummies - CBDistillery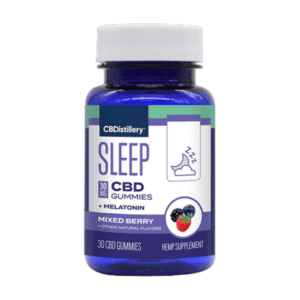 Broad spectrum (THC free): specially formulated for nighttime use
Flavors: mixed berry flavored
Strength: 30mg per gummy (900 total milligrams in bottle)
60-day money back guarantee
Free shipping on orders over $75 to all 50 U.S. states
At 30mg of CBD per gummy, the CBDistillery gummies are also one of the higher strength products on the market. They have a similar formulation as their regular gummies but also have 2 milligrams of melatonin in each CBD gummy.
Ingredients: CBD, Melatonin, Tapioca Syrup, Cane Sugar, Pectin, Sodium Citrate Dihydrate, Citric Acid, Malic Acid, Fruit and Vegetable Juice (Color) and Natural Flavors.
25% off with code CBDOILUSERS at checkout
How did you choose the CBD gummies on this list?
We first created a shortlist of safe and reputable brands who include gummies in their product line. We then tried the products ourselves and did extensive research. Our research included getting direct feedback from current users of each product in our Facebook groups. Each of the brands on our list meet or exceed our high standards, including:
Third party lab reports readily available on their website or by request
User-friendly website and online ordering process
Consumer transparency and truthfulness in any marketing claims
Fair pricing and customer service practices
Responsiveness to customer issues
What are common CBD gummies effects?
Some gummies are specially formulated for sleep by including melatonin in their ingredients list. But generally, there are not specific conditions for which CBD gummies are the best delivery method. Similar to other CBD products, people are taking gummies for a variety of reasons including anxiety, depression, chronic pain, inflammation and insomnia to name just a few.
Will CBD gummies work for you?
It's impossible to know the answer to that question before trying them yourself. The effect of CBD is highly individualized since everyone has a unique endocannabinoid system, health condition and other factors. What works for someone else may not work at all for you. Users should expect for there to be some trial and experimentation to find the brand, product and delivery method that works best for them.
How do CBD gummies compare to other ways of taking CBD?
The top benefits of gummies compared to other delivery methods are taste, convenience and easy dosing. The downside of gummies is that they have lower bioavailability than other popular methods such as tinctures and vaping. This means that less of the product actually gets absorbed into your bloodstream. Since gummies are an edible, they have to go through your digestive system where some of the CBD is lost prior to absorption. So if you're switching from sublingual drops to gummies, it's likely that you'll need to take more milligrams to achieve the same effective dosage.
Gummies take longer to take effect than tinctures or vaping. Whereas sublingual drops and vaping enter the bloodstream within a few minutes, it typically takes between 30 minutes and an hour for the CBD in gummies to take effect. Lastly, the price of gummies is typically slightly higher than sublingual drops on a per milligram of CBD basis. The price difference is larger if you incorporate the impact of bioavailability. The bottom line is that you can expect to pay more to use gummies compared to tinctures or vape liquids.
CBD Gummies Dosage Tips
The product label will tell you how many milligrams of CBD are in each gummy. This is the "strength" or "potency" of your particular product. Potency can vary widely across brands but is generally in a range of between 5-50 milligrams of CBD in each CBD gummy. It's important to know how many milligrams of CBD are in each gummy so that you can find the dosage or serving size that works best for you.
Important point: the optimal serving size is different for each person. Some experimentation is typically necessary to find the dosage that is right for you. Our recommendation is that you "start low and increase slow" to find your personal sweet spot dosage. Start with one 5mg or 10mg gummy and wait at least one hour. If you feel no effects, then consider taking another one and repeat this process until you get the desired results. If you purchased higher potency CBD gummies (25-30mg) you can still use the '"low and slow" method to find your optimal dosage. Just cut the gummies into smaller pieces. For example, a 30mg gummy can be cut in half to effectively make two 15mg pieces or into quarters to make four 7.5mg pieces.
After a day or two of using this dosing technique, you'll have a good idea of how many milligrams that you need. You can then move to more of a regular schedule for taking them and make any minor adjustments needed over time. Headaches and nausea are signs that you may have taken too much. If you experience those symptoms, you should stop taking additional CBD and consider lowering your serving size the next time.
Can I Make My Own CBD Gummies?
Absolutely! You can use CBD oil tinctures or isolate powder to make your own gummies at home. By making them yourself, you can determine the taste, potency and ingredients that best fit your needs. Our separate article How to Make Your Own Gummies has an easy recipe and instructions on how to do this.
Let us know what you think
We hope that our CBD Gummies Buyer's Guide has been helpful for you and that it helps you find the product that is right for you.  We'd love to hear about your experiences with CBD gummies in the comment section below. Best of luck in your CBD journey!