R+R Medicinals Brand Review
R+R Medicinals is a veteran and employee-owned company based in Colorado. Based on feedback from their customers, they're quickly making a name for themselves by focusing on the things that matter the most to users.
High quality, lab-tested products. All R+R Medicinals products are made exclusively from organically grown, Colorado hemp. Most importantly, third-party lab testing is performed on every batch and the reports are easily available on their website. We certainly applaud their high quality standards and commitment to transparency.
Affordable pricing. R+R Medicinals offers among the lowest prices on the market. Specifically, their tinctures are priced as low as $0.04 per milligram of CBD. This puts their prices significantly below the market average. They believe that quality CBD products should be affordable for everyone. And they deliver on their mission by partnering with local suppliers and managing the production process themselves. Those savings get passed along to their customers in the form of extremely affordable prices and free U.S. shipping.
Customer service. Best in class companies know that it's important to focus on the customer. R+R Medicinals does this through its easy-to-navigate website, fast shipping and responsiveness to customer support needs. Furthermore, their 30-day money back guarantee is a testament to the quality of their products.
Popular products: Full spectrum CBD oil drops, gummies, softgels, topicals and pet products
Source of hemp: Organically grown on farms in Colorado USA
Tincture carrier oil: MCT oil (fractionated coconut oil)
Prices: Low (as low as $0.04 per mg of CBD)
Shipping cost: Free shipping on all U.S. orders
Countries served: All 50 U.S. states and internationally to Australia, Canada, France, Germany, Israel, New Zealand, Norway and the UK
15% off with code CBDOILUSERS at checkout
What Sets R+R Medicinals Apart From the Competition?
USDA Certified Organic and US Hemp Authority Certified
30-day money back guarantee
Free shipping on all U.S. orders
Also ships internationally to the UK, Australia, Canada, France, Germany, Israel, New Zealand and Norway
R+R Medicinals CBD Oil Drops
Tinctures are the most popular way of taking CBD and R+R Medicinals tinctures are available in 3 different potencies.
500mg (17 mg/ml)
1000mg (33 mg/ml)
2500mg (83 mg/ml)
If you're just beginning your CBD journey, the lower potency 500mg bottle or the medium potency 1000mg bottle is a great place to start. All 3 potencies are also availabe in mint flavor if you don't like the "earthy" taste of hemp.
Regardless of the potency that you choose, it's recommended that you start low on dosage and increase slowly over time to find your "sweet spot" dose. To help users easily and accurately measure servings, all bottles come with a graduated dropper with milliliter markings.
If you find that you are taking more than one milliliter at a time, then you may consider opting for a higher potency product on your next purchase. The high-potency 2500mg bottle contains a whopping 83 milligrams of CBD per milliliter which ranks it as one of the strongest full spectrum oils on the market. 
All of their tinctures are full spectrum. This means that they contain an array of cannabinoids, terpenes and other naturally-occurring compounds from the source hemp plant. Full spectrum products are the most popular choice of users and are regarded as most effective for those using CBD to help with chronic conditions.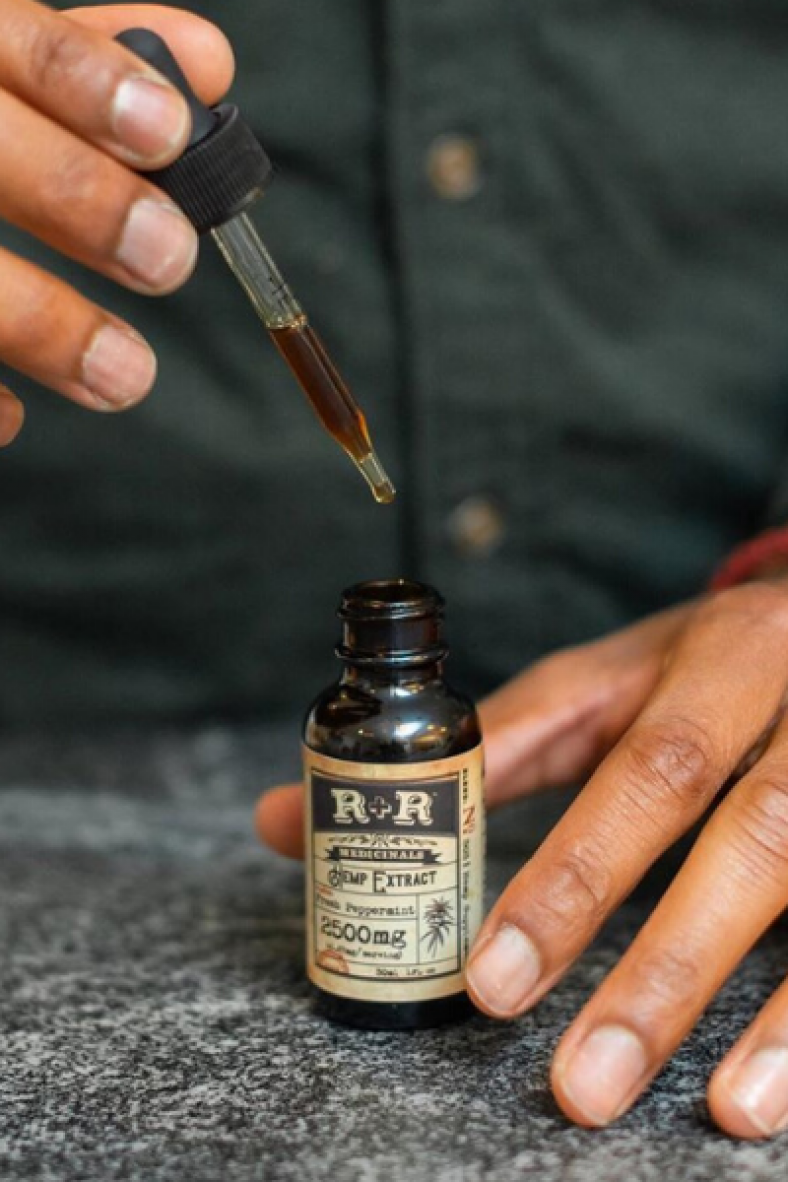 Other Popular Products
CBD Gummies – full spectrum CBD gummies can be difficult to find so it's no surprise that the gummies are their best selling product. The gummy rings come in a variety of fruit flavors and really do taste great. Each bottle contains 30 gummies with 25 milligrams of CBD per gummy. The gummy rings can easily be cut into pieces for lower dosing if desired. Gummies are a great option if you prioritize taste, convenience and ease of dosing.
CBD Cream – the R+R Medicinals cream is a great option for topical application. Each 2.5 fluid ounce squeeze bottle contains 1000 milligrams of CBD. It's a light cream that spreads easily on your skin and combines full spectrum CBD with other natural ingredients including MSM, arnica montana, calendula flower and jojoba.
CBD Softgel Capsules – capsules are a good choice if you dislike the taste of tinctures or want another convenient option for taking your CBD. The R+R Medicinals softgels are easy to swallow and nanoemulsified for higher absorption rates. Each bottle contains 34 softgel capsules and are available in your choice of either 15 or 30 milligrams of CBD per capsule.
CBD Pet Products – the R+R Medicinals pet tincture contains 500 milligrams of CBD and is specially formulated for pets. It's less potent than the human version, unflavored and uses grapeseed oil instead of MCT coconut oil as the carrier for easier absorption. For easier administration, they also carry chicken-flavored CBD dog chews that come in a bottle of 60 with 5 milligrams of CBD per chew.
15% off with code CBDOILUSERS at checkout
R+R Medicinals Third Party Lab Reports & Testing Results
R+R Medicinals is committed to transparency and third party lab testing of their products to ensure the quality and safety of their products. Third-party lab reports are posted on their website by product and by batch (lot number). If you've already purchased a product from them, you can find the lot number on the back of the product label. 
Is R+R Medicinals Legit?
Yes, R+R Medicinals is considered to be a safe and reputable CBD brand in the industry. R+R Medicinals reviews posted by users on Google and Facebook are overwhelmingly positive and speak to the quality and effectiveness of their products.
All of their products are made from organically grown hemp grown in Colorado and are lab tested. Their very affordable prices and exceptional customer service have made them a popular choice among those looking for full spectrum tinctures, gummies or capsules.
R+R Medicinals User Reviews
R+R Medicinals CBD reviews by real users are shown in the comments section below.
If you've used CBD products from R+R Medicinals, please take a few minutes to write your own R+R Medicinals review. Your review will help other users get informed and find the CBD products that are right for them. Thank you!