cbdMD is a safe and reputable brand of CBD products based in Charlotte, North Carolina. They've been one of the most popular brands in the industry and among members of our Facebook groups since 2018. cbdMD is best known for its wide selection of broad spectrum (THC free) products. They recently added full spectrum tinctures and softgels to their product line as well.
We've been extremely impressed with the level of professionalism in all areas of their operation. They have a strong dedication to customer service and they go above and beyond to ensure that their customers are satisfied. Their 60-day money back guarantee is proof of their commitment to product quality and customer support.
cbdMD's prices are affordable and they offer free shipping on orders of $59 or more. This means an exceptional value for the high-quality products and exceptional customer experience that they deliver.
CBDOilUsers.com is reader-supported. If you make a purchase using links on this page, we may earn a commission at no extra cost to you. Learn more.
20% off with code CBDOILUSERS at checkout
cbdMD Performance Ratings
Our brand performance ratings are based on our extensive, objective research into each brand that we review. They also reflect our expert knowledge of the industry from reviewing and comparing the top CBD brands since 2017. Lastly, we incorporate direct consumer feedback that we receive each day from the nearly 300,000 members of our CBD user groups on Facebook.
cbdMD has received an overall average rating of 4.9 stars out of 5 based on the criteria outlined below. We believe that these measures of performance are most important to consumers as they evaluate and compare different CBD brands.
All cbdMD products are made from high-quality, premium hemp that is grown in the USA. They've also been certified by the U.S. Hemp Authority. Additionally, they independently verify good manufacturing practices (GMP) in all of their facilities.
Lab testing is performed by SC Laboratories, a highly respected testing facility based in Santa Cruz, California. A recent full-panel lab report is available on every product page of their website. You can view the lab results for a product you already have by scanning the QR code on the label with your smartphone. Alternatively, you can enter the batch number on the Certificate of Analysis page of their website.
The price of their popular 3000mg broad spectrum tincture is currently $79.99. That's a cost per milligram of $0.027 which is low in comparison to other top brand prices that range between $0.02-$0.20 per milligram. Be sure to use the discount code listed above for an even better deal.
The cbdMD reviews posted by customers on verified review sites and in our Facebook groups are overwhelmingly positive. The taste and effectiveness of their tinctures, gummies and topicals are most commonly mentioned in user reviews. 
cbdMD has an extremely strong reputation for customer service and resolving any order issues. They have a dedicated customer support phone number, contact form and email address on the "Contact Us" page of their website. You can also live chat with an agent from any page of their website.
What Sets cbdMD Apart From Other Brands?
Larger selection of products than most brands, including 3 different types of tinctures (broad spectrum, full spectrum, and sleep aid)
Many different choices of potency levels for all of their products
Award-winning CBD gummies available in multiple formulas
60-day money back guarantee
Customer rewards program
20% off with code CBDOILUSERS at checkout
Sublingual drops (tinctures) are the most popular way of taking CBD. Tinctures come in glass bottles with a dropper top to measure your serving size or dosage. Place the drops under your tongue and hold them there for at least 45-60 seconds for maximum absorption rates.
cbdMD has 3 different types of CBD tinctures so let's briefly discuss each of their options. This will help you choose the product that best fits your needs.
Please note that the benefits listed are based on our research and user reviews. The effects of specific products commonly vary by individual.
Gummies are a popular way of taking CBD because of their taste and convenience. Each gummy has a prescribed amount of CBD which also makes dosing easier. 
cbdMD gummies were voted "Favorite CBD Gummies" by members of the CBD Oil Users Group on Facebook.
More convenient to take when on the go
Taste great and come in a variety of fruit flavors
Easier to measure dosage (the gummies can also be cut into pieces) 
Lower absorption rates than tinctures
Longer time to take effect (up to 1-2 hours)
Higher cost per milligram than tinctures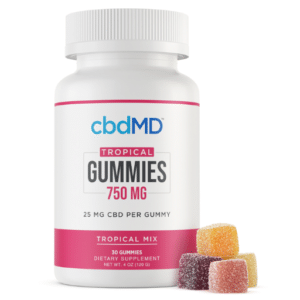 Benefits: General wellness, stress & anxiety
Type: Broad Spectrum (THC free)
Potency: 300mg (10mg/gummy), 750mg (25mg/gummy) or 1500mg (50mg/gummy)
Available Sizes: 30-count bottle
Flavor: Assortment of strawberry, orange, raspberry and tropical fruit
cbdMD Freeze is a pain relief roll-on, cbdMD Recover is an inflammation cream and cbdMD Revive is a moisturizing lotion. All 3 are formulated to be used topically for localized relief.
The Freeze roll-on is similar to Icy Hot and other cooling gels for sore muscles, but significantly stronger. We found the Recover cream to be especially useful in combination with the Freeze. It seems to penetrate "deeper" but has minimal cooling effect. It absorbed quickly and we didn't find it to be sticky compared to other inflammation creams we've tried.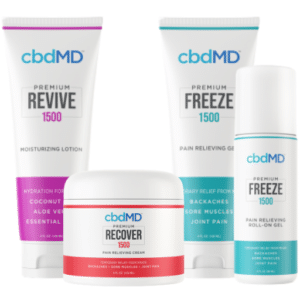 Benefits: temporary topical relief from joint and muscle pain (Freeze and Recover); help with minor skin conditions such as eczema and acne (Revive)
Type: Broad Spectrum (THC free)
Potency: choices ranging from 300mg to 3000mg
Available Sizes: 2-4 ounce tubs, squeeze tubs and roll-ons
Capsules – CBD capsules are available in softgels or powder form. You have several choices of potency of the capsules ranging from 15 milligrams to 50 milligrams of CBD per capsule.
Bath Bombs – available in 6 different scents, each cbdMD bath bomb contains 100mg of CBD, essential oils and epsom salt. They are intended to be dropped in a bath for full body relaxation. The bath bombs smell amazing and have a significant amount of CBD in them compared to other more expensive bath bombs that we've tried. They dispersed a thin layer of oil on the top of the bath water that can be rubbed in and coated on the skin. It was not overly greasy, which is a complaint that we've had with other brands, and the bath bombs did not stain the tub or skin after the soak.
CBD Oil for Pets – cbdMD has a full line of CBD products for pets under its Paw CBD brand. These CBD tinctures, treats and topicals are specially formulated for dogs, cats, horses and other pets. Our complete guide to CBD oil for dogs is a great resource for pet owners.
20% off with code CBDOILUSERS at checkout
How to Use the cbdMD Coupon Code
cbdMD makes it easy to use our exclusive CBDOILUSERS coupon code for a 20% discount on every order.
When you add a product to your cart, you'll see an overlay of your cart. You can continue to add more products or start the checkout process. 
Once you've added all of your products, click the "Go To Checkout" button on the shopping cart page. You'll be taken to the Checkout page to begin the purchase process.
Simply enter the CBDOILUSERS code in the "coupon code" field in the order summary box. After you click the "Apply" button, the total amount will update to include the discount. You can then continue with the checkout process to complete your order.
Frequently Asked Questions :
Are there any restrictions on use of the coupon code? No, our exclusive code will apply savings to all products in your order. The coupon code CBDOILUSERS will save you 20% on first-time and future orders.
Is there a limit on how much I can save? No, the code will apply a 20% discount to your entire order regardless of dollar amount. There is also not a minimum purchase required to use the code.
Is there an expiration date for this coupon? No, our exclusive promo code does not expire and can be used by customers at any time. If you have issues using any cbdMD coupons, reach out directly to the company using the "Contact Us" link on their website for assistance.
Third Party Testing and Lab Results
We only recommend brands that do extensive third party testing of their products and make those lab results easily accessible by customers. Third party lab testing of each product batch is important since it's really the only way to know what's in the product and that it's safe.
cbdMD posts a recent third party lab report on each product page of its website. You can access these lab results by clicking the COA tab on the product page. You can also see a copy of lab reports for your specific product's batch. Just visit the COA page of their website and enter the batch number from your product's label to view the testing results.
cbdMD is committed to veterans that have served our country, first responders, and those who are on disability. They offer a 30% discount to veterans and first responders and a 40% discount to legally disabled customers as part of their generous assistance program for these groups.
To apply for their program, you can contact their customer support team by email at [email protected].
cbdMD reviews by real users are shown in the comments section below.
If you've used CBD products from cbdMD, please take a few minutes to write your own cbdMD review in the "LEAVE A REPLY' section at the bottom of the reviews shown on this page. Your review will help other users get informed and find the CBD oil products that are right for them. Thank you!