Cycling Frog is an exciting new brand that features Delta 9 THC products. It's a sister company of Lazarus Naturals which is one of the most popular and respected CBD brands. So you know you'll be getting high-quality, lab-tested products at some of the best prices on the market.
Delta 9 THC has become popular with users looking for something stronger than traditional CBD products. In case you're wondering, yes these products do produce an "elevated experience" for most users. For that reason, we strongly recommend that you start with a small amount (5-10 milligrams) to minimize any unexpected effects.
Cycling Frog has a nice selection of these higher THC products that are federally legal and can be ordered online in most states. In fact, their THC products are available to residents of all 50 states.
In addition to quality, Cycling Frog is also clearly committed to affordability. All of their gummies are less than $1 each. "THC for the people" is their brand slogan and their affordable prices certainly prove that to be the case.
CBDOilUsers.com is reader-supported. If you make a purchase using links on this page, we may earn a commission at no extra cost to you. Learn more.
25% off code ONETIME25 or 10% off code CBDOILUSERS
Cycling Frog Buyer's Guide
Delta 9 is the version of THC that is most commonly associated with marijuana. It's also the version that's in traditional CBD products at low levels. Full spectrum CBD gummies typically contain only between 0.1 – 2 milligrams of Delta 9 THC per gummy.
The Delta 9 gummies now on the market contain between 5 – 25 milligrams of THC per gummy. How is it possible for products to have high levels of THC and still be legal? It's because gummies can be made heavier and still have less than 0.3% THC on a dry weight basis. This legal definition established by the 2018 Farm Bill may eventually change, but it's the loophole that currently makes these products federally legal.
Can be ordered online by residents of all 50 states
Easy to take and measure dosage levels
Great tasting and up to 10 mg of THC per gummy
Gummies can take up to 1-2 hours to take effect
Lower absorption rates than tinctures or vaping
Higher cost per milligram than tinctures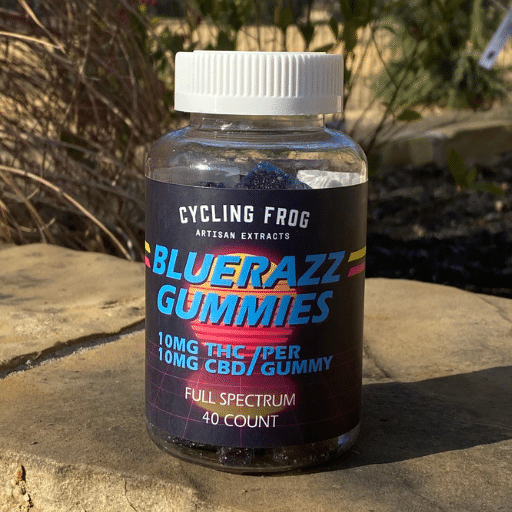 10mg Delta 9 Gummies (Bluerazz or Passionfruit)
These contain double the amount of THC per gummy than their 5mg gummies.
Cannabinoid content: 10mg of Delta 9 THC and 10mg of CBD per gummy
Number of gummies per bottle: 40
Total THC milligrams per bottle: 400mg
Full spectrum, gluten free, vegan, non-GMO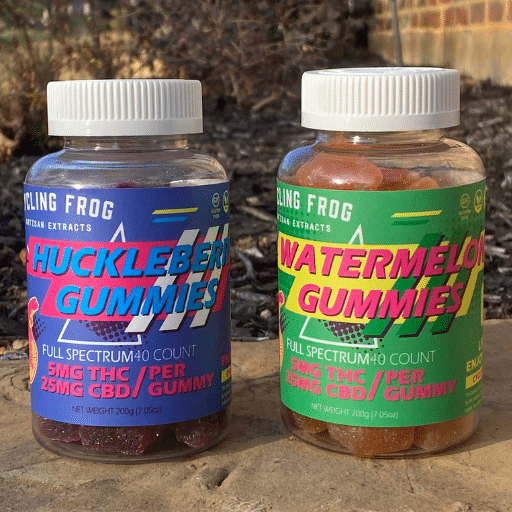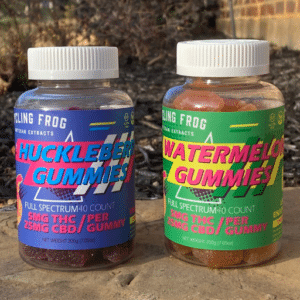 5mg Delta 9 Gummies (Huckleberry or Watermelon)
Preferred by users wanting a stronger, more "elevated" experience than traditional CBD products.
Cannabinoid content: 5mg of Delta 9 THC and 25mg of CBD per gummy
Number of gummies per bottle: 40
Total THC milligrams per bottle: 200mg
Full spectrum, gluten free, vegan, non-GMO
In addition to the gummies, Cycling Frog also currently carries THC mints and seltzer drinks. We're expecting that they'll continue to add new product options as they grow and expand into this market.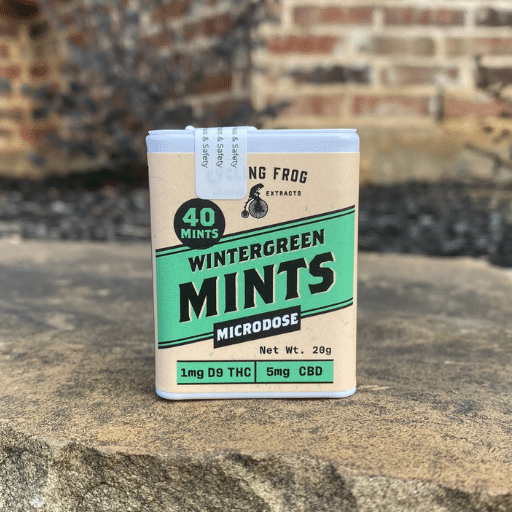 1mg Delta 9 Wintergreen Mints
Popular choice for users who want to start slowly and microdose.
Cannabinoid content: 1mg of Delta 9 THC and 5mg of CBD per mint
Number of mints per bottle: 40
Total THC milligrams per bottle: 40mg
Gluten free, vegan, non-GMO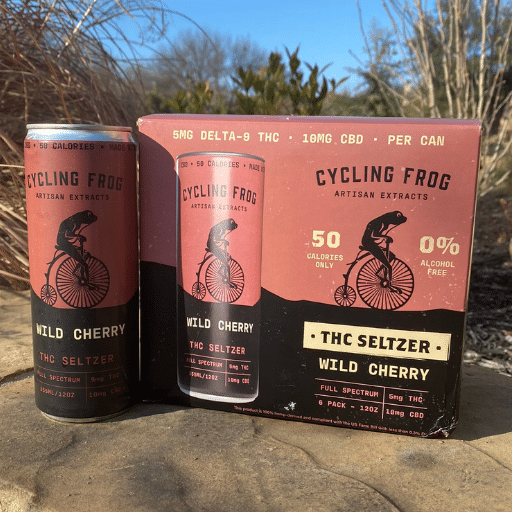 5mg Delta 9 Seltzer Drinks
These unique seltzer drinks don't contain any alcohol but they do contain 5 milligrams of THC in each 12 ounce can. 3 flavors to choose from: Wild Cherry, Ruby Grapefruit and Black Currant.
Cannabinoid content: 5mg of Delta 9 THC and 10mg of CBD per can
Number of seltzers per pack: 6
Total THC milligrams per 6-pack: 30mg
Full spectrum, gluten free, vegan, non-GMO
Third Party Testing and Lab Results
We only recommend brands that do extensive third party testing of their products and make those lab results easily accessible by customers. Third party lab testing of each product batch is important since it's really the only way to know what's in the product and that it's safe.
Cycling Frog posts third party lab reports by product and batch on their website. The lab results are extensive and include testing for cannabinoid content, heavy metals, pesticides, residual solvents and microbials.
You can access their lab reports on the "Testing" page of their website. Just click on the "Certificate of Analyis" link for the product and batch number to view the results. If you already have their product, the batch number is printed on the label.
25% off code ONETIME25 or 10% off code CBDOILUSERS
How to Use the Cycling Frog Coupon Code
Cycling Frog makes it easy to use our exclusive coupon codes to save money on every order. Use the code ONETIME25 for 25% off your first order and code CBDOILUSERS for 10% off all future orders.
Just add all the products that you want to purchase to your shopping cart and then click the "Check Out" button. On the checkout page, you'll see a "discount code" field below the list of products in your cart. 
Enter the ONETIME25 or CBDOILUSERS code in that field and click the "Apply" button. The total amount will update to include the discount. You can then continue with the checkout process to complete your order.
Frequently Asked Questions :
Are there any restrictions on use of the coupon codes? The ONETIME25 code can only be used once per account. The CBDOILUSERS code will apply a discount to all orders. The codes cannot be combined or used with other discounts.
Is there a limit on how much I can save? No, the code will apply the discount to your entire order regardless of dollar amount. There is also not a minimum purchase required to use the promo codes.
Is there an expiration date for thess coupons? No, our exclusive promo codes do not expire and can be used by customers at any time. If you have issues using any Cycling Frog coupon codes, reach out directly to the company using the "Contact Us" link on their website for assistance.
Cycling Frog Reviews by Users
Cycling Frog reviews by real users are shown in the comments section below.
If you've used products from Cycling Frog, please take a few minutes to write your own Cycling Frog review in the "Leave a Reply' section at the bottom of the reviews shown on this page. Your review will help other users get informed and find the Delta 8 and Delta 9 THC products that are right for them. Thank you!