Extract Labs is a safe, reputable and veteran-owned CBD brand based in Boulder, Colorado. They have an impressive product line with unique offerings that you won't find at many of the other top brands. In addition to several types of tinctures and topicals, they also have a large selection of concentrates and vape cartridges.
Their commitment to producing quality products supported by lab testing is apparent. Third-party lab results are available by batch on their website. You can also look up the lab report for your specific product since each product has the batch number printed on the label. All of their products are made from hemp that has been organically grown in the USA.
This is obviously a company that truly cares about its customers. They offer quality products at prices that are among the most affordable in the industry. Customers also rave about their customer support in the event that there are any issues with your order.
CBDOilUsers.com is reader-supported. If you make a purchase using links on this page, we may earn a commission at no extra cost to you. Learn more.
25% off with code CBDOILUSERS at checkout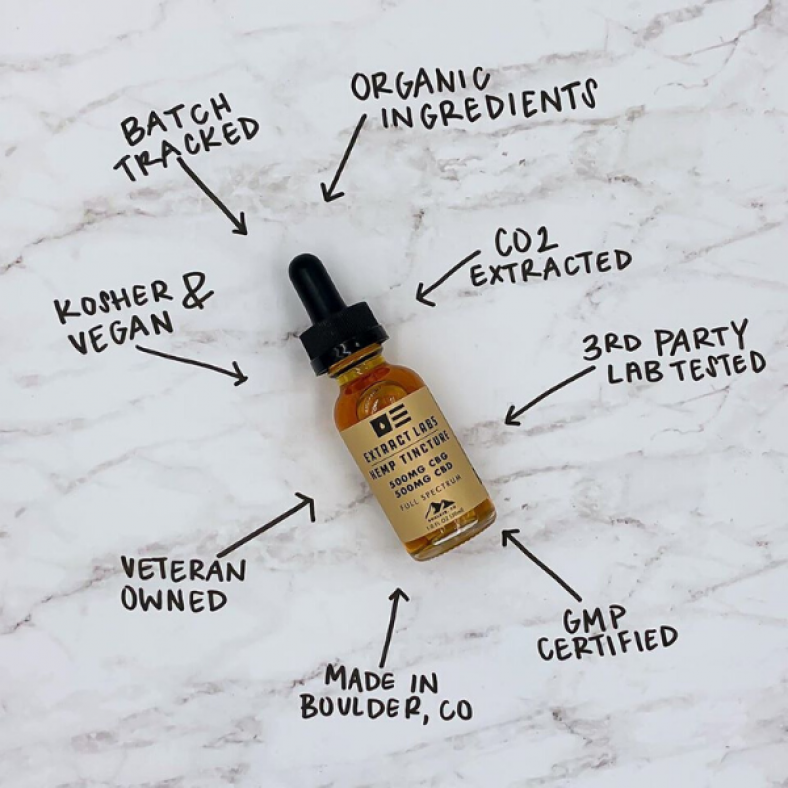 Sublingual CBD oil drops are the most popular way of taking CBD. Tinctures come in glass bottles with a dropper top to measure your serving size or dosage. Place the drops under your tongue and hold them there for at least 60-90 seconds for maximum absorption.
Extract Labs has a wide selection of CBD tinctures so let's briefly discuss each of their options. This will help you choose the product that best fits your needs.
Original CBD Tincture – their standard potency drops are full spectrum and contain 33 milligrams of CBD per milliliter (dropperful). This is the recommended product if you are a beginner or taking lower doses. This tincture is available in 3 sizes: 15ml (500mg), 30ml (1000mg) or 60ml (2000mg). In addition to the natural flavor, they also have 3 flavor options: lemon, raspberry and banana foster.
Original Extra Strength Tincture – if you're wanting a higher potency product, these full spectrum drops have twice the concentration of the standard potency tincture. This product has 66 milligrams of CBD per milliliter and is also available in 15ml (1000mg), 30ml (2000mg) or 60ml (4000mg). Recommended for users who are taking 50 milligrams of CBD or more per serving. Also available in lemon, raspberry or banana foster flavors.
Full Spectrum CBG Oil Tincture – Extract Labs was one of the first brands to introduce a tincture with a 1:1 ratio of CBD and CBG. Known as the "stem cell" of CBD, CBG oil has been gaining popularity among users for its unique benefits. This full spectrum tincture comes in a 30 milliliter bottle with 500 milligrams of CBD and 500 milligrams of CBG. 
Broad Spectrum CBG Tincture – THC free version of their CBG oil tincture with 1000 milligrams of CBD and 1000 milligrams of CBG. Recommended for users who want to try CBG oil without detectable levels of THC based on manufacturer lab testing.
Pure CBD Isolate Tincture – this high-potency THC free tincture is made from pure isolate. It contains 2000 milligrams of CBD in a 30 milliliter bottle so has a potency of 66 mg/ml. Recommended option for those with an aversion to detectable amounts of THC.
Other Popular CBD Products
Full Spectrum CBD Softgel Capsules – capsules are a popular choice for users who dislike the taste of drops. They are also easier to take and measure the dosage of each serving. The Extract Labs softgels each have 33 milligrams of CBD are come in a bottle with 30 capsules.
CBD Topicals – topical creams and balms are popular with those wanting to use CBD for localized relief. They are applied directly to your skin on an as needed basis. All of the Extract Labs topicals are full spectrum and include a blend of other organic ingredients. 
CBD Muscle Cream – formulated to provide relief for muscle and joint discomfort
CBD Face Cream – designed to help moisturize your face and provide relief for acne, psoriasis and sunburns
25% off with code CBDOILUSERS at checkout
Third Party Testing and Lab Results
Extract Labs posts a link to recent third party lab report by batch on each product page of its website.
You can also see a copy of lab reports for your specific product's batch on their website. Just visit the "batch database" page of their website and enter the batch number from your product's label to view the testing results.
Extract Labs is committed to making CBD products more affordable to veterans, first responders, health care workers, disabled individuals and those with low income. They offer a 50% discount to those who qualify as part of their CBD Assistance Program.
To apply for their program, just click the link and provide the listed documentation. After you're approved the discount will be applied automatically when you are signed into your account.
Extract Labs Reviews by Users
Extract Labs reviews by real users are shown in the comments section below.
If you've used CBD products from Extract Labs, please take a few minutes to write your own Extract Labs review in the "LEAVE A REPLY' section at the bottom of the reviews shown on this page. Your review will help other users get informed and find the CBD oil products that are right for them. Thank you!