Extract Labs is a safe, reputable and veteran-owned CBD brand based near Boulder, Colorado. They have an impressive product line with unique offerings that you won't find at many of the other top brands. In addition to several types of tinctures, gummies, capsules and topicals, they also have a large selection of concentrates, isolate powders and vape cartridges.
Their commitment to producing high quality products supported by lab testing is apparent. Lab results are available by batch on their website. You can also look up the lab report for your specific product since each product has the batch number printed on the label. All of their products are made from hemp that has been organically-grown in the USA.
This is obviously a company that truly cares about its customers. Users rave about their customer support in the event that there are any issues with your order or you have any questions. They also back up their products with a 60-day money back guarantee if you're not satisfied for any reason.
CBDOilUsers.com is reader-supported. If you make a purchase using links on this page, we may earn a commission at no extra cost to you. Learn more.
25% off with code CBDOILUSERS at checkout
Extract Labs Performance Ratings
Our brand performance ratings are based on our extensive, objective research into each brand that we review. They also reflect our expert knowledge of the industry from reviewing and comparing the top CBD brands since 2017. Lastly, we incorporate direct consumer feedback that we receive each day from the nearly 300,000 members of our CBD user groups on Facebook.
Extract Labs has received an overall average rating of 4.8 stars out of 5 based on the criteria outlined below. We believe that these measures of performance are most important to consumers as they evaluate and compare different CBD brands.
All Extract Labs products are made from organically-grown hemp in facilities with certified Good Manufacturing Practices (cGMP). Their products are also non-GMO, certified Kosher, certified Vegan, and made with only certified organic ingredients.
Lab testing is performed by Extract Labs Analytical Services, the company's own ISO-accredited testing facility. The lab reports include test results for cannabinoid content, heavy metals, pesticides and residual solvents. An opportunity for improvement is to also include testing results for terpenes.
The price of their popular 2000mg full spectrum tincture is currently $85. That's a cost per milligram of $0.043 which is low compared to the prices of other top brands that range between $0.02-$0.20 per milligram. Be sure to use the discount code listed above for the best deal.
The Extract Labs reviews posted by customers on verified review sites and in our Facebook groups are overwhelmingly positive. The high quality of their products, affordable prices and excellent customer service are the most common themes in these user reviews. 
Extract Labs has an exceptional reputation for customer service and handling any delivery issues. To help you resolve any issues or answer questions, they have a dedicated customer support phone number and email address on the "Support" page of their website. 
What Sets Extract Labs Apart From Other Brands?
Huge selection of hemp-derived cannabinoid products, including CBD, CBG, CBN, CBC and Delta 8
Unique products including CBD concentrates, chocolates and coffee
Low prices compared to most other major brands (tinctures as low as $0.043 per milligram)
Customer loyalty rewards program
Also ships internationally to all countries except Canada
25% off with code CBDOILUSERS at checkout
Extract Labs Buyer's Guide
Sublingual drops (tinctures) are the most popular way of taking CBD. Tinctures come in glass bottles with a dropper top to measure your serving size or dosage. Place the drops under your tongue and hold them there for at least 45-60 seconds for maximum absorption rates.
Extract Labs has 4 different formulations of CBD tinctures so let's briefly discuss each of their options. This will help you choose the product that best fits your needs.
Please note that the benefits listed are based on our research and user reviews. The effects of specific products commonly vary by individual.
25% off with code CBDOILUSERS at checkout
Gummies are a popular way of taking CBD because of their taste and convenience. Each fruit-flavored edible has a prescribed amount of CBD which also makes dosing easier. 
More convenient to take when on the go
Better tasting than full spectrum unflavored tinctures
Easier to measure dosage (they can also be cut into pieces) 
Lower absorption rates than tinctures
Longer time to take effect (up to 1-2 hours)
Higher cost per milligram than tinctures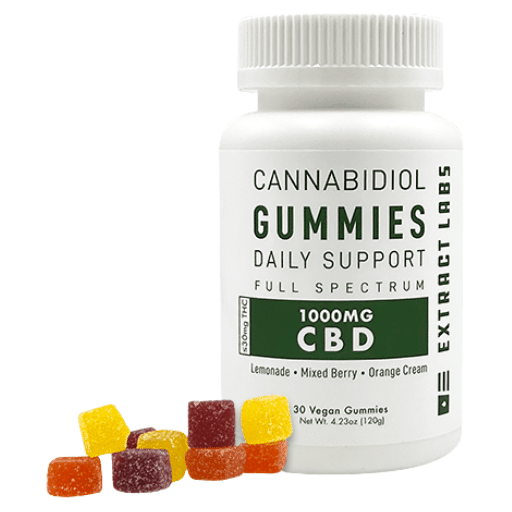 Daily Support CBD Gummies
Benefits: General wellness, stress & anxiety
Type: Full Spectrum (less than 0.3% THC)
Potency: 33mg of CBD per gummy
Available Sizes: 30 count bottle
Assorted Flavors: Lemonade, Mixed Berry and Orange Cream
Full Spectrum CBN Gummies
Benefits: Sleep
Type: Full Spectrum (less than 0.3% THC) 
Potency: 10mg of CBN and 30mg of CBD per gummy
Available Sizes: 30 count bag
Assorted Flavors: Apple, Blue Raspberry and Lime
25% off with code CBDOILUSERS at checkout
Delta 8 THC is often described as a less potent, milder and clear-headed version of regular Delta 9 THC. Unlike CBD, Delta 8 products do typically produce a "high" so start with a low amount when using them to avoid unwanted effects. View our Delta 8 Beginner's Guide for more information.
* Only available for shipping to states where the sale of Delta 8 products is legal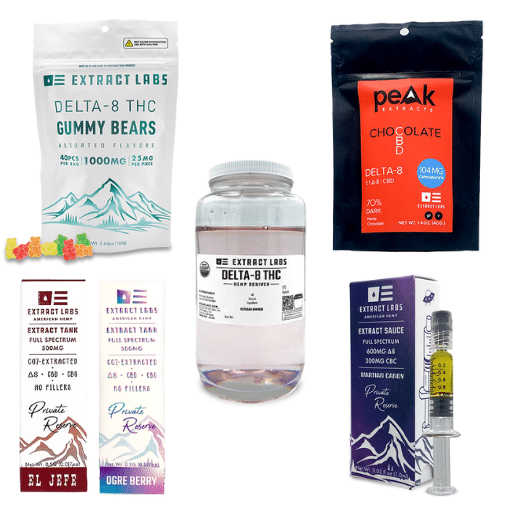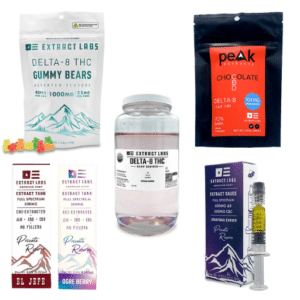 Delta 8 Gummies, Vape Tanks, Chocolate, Concentrates & Distillate
Benefits: Relaxation, sleep, stress & anxiety
Active Ingredient: Delta 8 THC (hemp-derived)
Gummies: 40 count with 25mg per gummy
Vape Tanks: Full Spectrum 500mg of Delta 8, CBD, CBG, CBT and cannabis-derived terpenes
Distillate: Choice of 5, 25 or 100 grams
25% off with code CBDOILUSERS at checkout
Full Spectrum CBD Softgel Capsules – capsules are a popular choice for users who dislike the "earthy" taste of unflavored drops. They are also easier to take and measure the dosage of each serving. Softgel capsules are available in the same 4 formulations as the Extract Labs tinctures: daily support (CBD), cognitive support (CBG+CBD), PM formula (CBN+CBD), and relief formula (CBC+CBD).
Full Spectrum CBD Vape Tanks – for users who want to vape, Extract Labs has some of the best quality CBD vape cartridges on the market. Each disposable tank contains CBD, CBG, CBT and cannabis-derived terpenes in your choice of several different strain profiles.
CBD Topicals – topical creams and balms are popular with those wanting to use CBD for localized relief. They are applied directly to your skin on an as needed basis. All of the Extract Labs topicals are full spectrum and include a blend of other organic ingredients. 
Muscle Cream – formulated to provide relief for muscle and joint discomfort
Face Cream – designed to help moisturize your face and provide relief for acne, psoriasis and sunburns
CBD Concentrates – for true enthusiasts, they have a nice selection of crumble and shatter products that are typically dabbed or smoked.
Isolate Powders – if you enjoy making your own products, Extract Labs has a full line of pure CBD, CBG, CBN and CBC isolate powders.
CBD for Pets – for your furry friends, the full spectrum Fetch tincture has a potency of 17 mg/ml and is available in either a 30ml or 60ml bottle. They also carry CBD dog treats that come in a 30-count bag and contain 10mg of CBD per treat.
25% off with code CBDOILUSERS at checkout
How to Use the Extract Labs Coupon Code
Extract Labs makes it easy to use our exclusive CBDOILUSERS coupon code for a 25% discount on every order.
After you've added all the products that you're buying to your cart, click the "View Cart" button. You'll be taken to the Shopping Cart page where you can see all the products that you added.
In the coupon field under the list of products, enter the CBDOILUSERS code and click the "Apply coupon" button. The discount will then be applied to your order summary along with a message telling you how much you saved.
You can then click the "Proceed to Checkout" button to complete your order with the discount applied.
Frequently Asked Questions :
Are there any restrictions on use of the coupon code? No, our exclusive code will apply savings to all products in your order. The coupon code CBDOILUSERS will save you 25% on first-time and future orders.
Is there a limit on how much I can save? No, the code will apply a 25% discount to your entire order regardless of dollar amount. There is also not a minimum purchase required to use the code.
Is there an expiration date for this coupon? No, our exclusive promo code does not expire and can be used by customers at any time. If you have issues using any Extract Labs coupons, reach out directly to the company using the "Support" link on their website for assistance.
Third Party Testing and Lab Results
Extract Labs posts a link to recent lab reports by batch on each product page of its website. Just select the product that you're interested in and click the "Lab Results" tab to view the lab results.
If you already have an Extract Labs product, you can scan the QR code on the label with your smartphone's camera app. A link will pop up that will take you directly to that product's lab reports. Alternatively, you can visit the "batch database" page of their website and enter the batch ID number from your product's label to view the testing results.
Extract Labs is committed to making CBD products more affordable to veterans, active military, teachers, first responders, health care workers, disabled individuals and those with low income. They offer a 50% discount to those who qualify as part of their industry-leading Assistance Program.
To apply for their program, just click the link and provide the listed documentation. After you're approved the discount will be applied automatically when you are signed into your account.
Extract Labs Reviews by Users
Extract Labs reviews by real users are shown in the comments section below.
If you've used CBD products from Extract Labs, please take a few minutes to write your own Extract Labs review in the "LEAVE A REPLY' section at the bottom of the reviews shown on this page. Your review will help other users get informed and find the CBD products that are right for them. Thank you!