You're probably already very familiar with CBD and Delta 9 THC (the technical name for the psychoactive compound in marijuana). Products featuring these two best-known cannabinoids have been available and talked about for several years.
But more recently, it's been new variations of THC getting the most attention. Delta 8 went mainstream in 2020 and has exploded in popularity since then. It's become especially popular among those looking for something stronger than CBD and those in states where regular THC isn't legal.
The latest version of THC to show up on the market is Delta 10. In this guide, we'll explain what it is and how it's different from Delta 8 and Delta 9. We'll also give you our recommendations of the best Delta 10 brands based on our vetting process and user reviews.
Delta 10 THC (short for delta 10 tetrahydrocannabinol) is one of over 100 cannabinoids that are produced naturally by the cannabis plant. Each individual cannabinoid is known to have unique properties and potential therapeutic benefits.
Unlike CBD and Delta 9 THC, both Delta 10 and Delta 8 are considered to be minor cannabinoids. That's because the plant only produces them in trace amounts. They occur in such low amounts that it's not feasible to make products featuring their natural version.
Instead, D10 and D8 products are made from hemp extract that has gone through a special conversion process in a lab. The fact that the finished product contains less than 0.3% Delta 9 THC makes them technically legal at the federal level in the United States. At least for now. Despite them being federally legal, some states have already restricted or banned their sale.
To date, there's been very little medical research into Delta 10. Based on anecdotal feedback from users, both Delta 10 and Delta 8 can have psychoactive effects similar to Delta 9 THC. But it's usually described as a milder "high" than what you would expect from marijuana. The intensity of the effects can vary depending on how much that you take.
The key difference between D10 and D8 is that Delta 10 tends to be more energizing (sativa-like) whereas Delta 8 is more relaxing (indica-like). Many users tell us that they use Delta 10 during the day and Delta 8 at night. Effects do vary by individual so you'll need to try them to know how they'll effect you specifically.
It's highly recommended that you consult with your physician before using Delta 10 or any other cannabis-derived product. This is especially important if you have medical conditions or take prescription medications due to potential interactions.
What are Users Saying About It?
Here are some of the experiences with Delta 10 that users have shared with us in our Facebook group. While it can be helpful to hear what others are saying, remember that your experience may be different.
"Delta 8 makes me wanna sleep. Delta 10 just makes me feel good and chill."
"I love Delta 8 and have been using it for almost a year. I always thought the only downside was how sleepy it made me feel. When I found D10 it was like my prayers were answered. Same good feeling, just without the fatigue and with more energy than usual."
"I'd definitely describe Delta 10 as more of an energetic high and the Delta 8 more of a 'feel it in my eyes' high."
"I switched from Delta 8 to Delta 10 and it has been great. It makes me happier, takes away my anxiety, motivates me and I sleep better."
"Love D10 so much. It's the closest thing to the high I want that I've found."
What are the Best Delta 10 Brands?
The recent increase in popularity of Delta 10 products has resulted in an increase in the number of companies now selling them online. While having more options is helpful, it can be hard to know which brands are safe and reputable.
Here is our list of the top Delta 10 brands based on our research and feedback from members of our Facebook groups. As always, we encourage you to do your own research and only buy from reputable brands that make third-party lab reports readily available to you.
CBDOilUsers.com is reader-supported. If you make a purchase using links on this page, we may earn a commission at no extra cost to you. Learn more.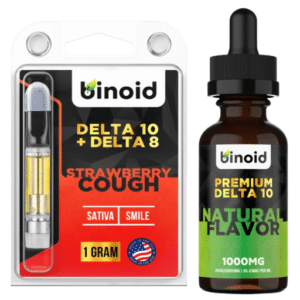 15% off with coupon code GROUP15 at checkout
Natural-flavored tinctures and vape cartridges in your choice of several flavors and terpene profiles. Free shipping.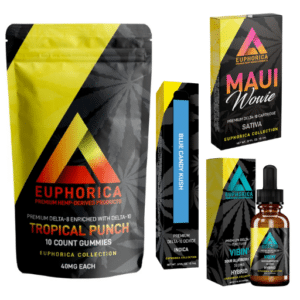 20% off with code CBDOILUSERS at checkout
Vape cartridges and disposable vape pens in your choice of sativa, indica or hybrid. Also gummies and tinctures.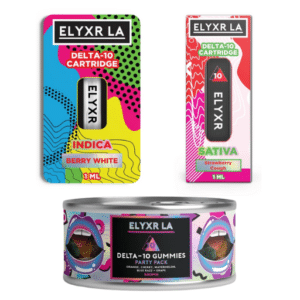 10% off with code CBDOILUSERS at checkout
Gummies, vape cartridges, disposable vape pens and flower. Multiple flavor and terpene options for vapes.
Delta 10 Buying Tips
Here are some important things to keep in mind as you consider the best Delta 10 products for you:
There is no best Delta 10 brand or product for a particular condition. Everyone's body interacts differently with cannabis products. So a product what works well for one person may work differently for you. Most users have to experiment with a few different products to find the one that works best for them.
Only buy Delta 10 products that have third-party lab reports available for them. The company will typically have links to these Certificates of Analysis (COAs) on their website for you to review. The lab results are important to help ensure that the product is safe and has been tested for potentially dangerous chemicals and residual solvents. They will also confirm that the product has the advertised amount of Delta 10 in them.
Read the product description on the company's website carefully before you buy. You want to know exactly what you're getting to avoid any surprises when you receive the product. Reach out to the company directly if you have any questions or concerns about the ingredients or lab results.
The Delta 8 Users Group on Facebook is dedicated to education and the sharing of experiences among users. It's a great place to discuss the best Delta 10 brands and learn more about cannabinoid-based products from others.
Get the Delta 8 Beginner's Guide and Coupons Sent to Your Inbox
As is true with any cannabis-based product, there is no "right" amount to take that works best for everyone. The effects of Delta 10 and other cannabinoids are very individualized. In fact, you can expect to get different effects depending on how much you take and how you take it. You'll need to do some experimentation to find your optimal dosage or "sweet spot" amount that produces the effects you desire without unwanted side effects.
The most important thing to remember is to start low. It's generally recommended that beginners start out with between 5-10 milligrams. This means starting with one short pull if you're vaping, a quarter or half of a gummy (you can cut them into pieces), or just a couple drops of tincture depending on its potency. By starting low and increasing slowly over time, you'll be able to find how much works best for you.
When you are just starting out, it can be helpful to keep a dosing log of how much you are taking and the effects that you feel. Keeping a record of your experiences can help you find your optimal dose more effectively. 
For more detailed information on how much you should take, please visit our Delta 8 Dosage Calculator & Dosing Guide page. The suggested guidelines for Delta 8 can also be applied for Delta 10 products.
Other Frequently Asked Questions
How Do You Use It?
If you decide that you want to try Delta 10, the first decision you'll need to make is how you want to take it. The 3 most common ways for beginners to use Delta 10 are: (1) gummies, (2) tinctures and (3) vaping.
Gummies are easy to consume and dose accurately. They are also a good choice if you don't want to choose a specific strain or you don't like the idea of vaping. Each gummy typically has between 10-25 milligrams of Delta 10.
Delta 10 tinctures have a carrier oil (usually MCT coconut oil or hemp seed oil) and are taken by holding the drops under your tongue for at least 45-60 seconds. You can also just swallow the liquid right away which can have slightly different effects.
Delta 10 vape cartridges and disposable vape pens often come in a variety of different strains and terpene blends. Different strains have unique effects so you'll want to choose the strain based on the effects that you're seeking. The reported effects of each strain are sometimes listed on the store's website or you can research strains online to help you make your choice.
Disposable vape pens are ready to use right out of the box. To use a vape cartridge, you'll typically need a "510 thread" vape pen or box mod. If you don't already have one, they are readily available online and at local vape shops.
Can Delta 10 Make You Fail a Drug Test?
Yes, Delta 10 is a version of THC so you can absolutely fail a drug test. Delta 10 and Delta 8 produce the same metabolites as regular Delta 9 THC that can trigger a positive test.
As with any cannabis-derived product, your chances of testing positive depend on a variety of factors including duration of use, the type of test and your body chemistry. 
But the bottom line is that you should not use Delta 10 or any cannabis product if you are unwilling to accept the risk of testing positive on a drug test. In the case of Delta 10 or Delta 8 specifically, the risk is high.
Why Do Some D10 Products Also Contain Delta 8?
You may have noticed that many Delta 10 products also have material levels of Delta 8 in them. In fact, the ratio of D8 can often be higher than D10. This is a common combination that produces its own unique effects.
Delta 8 is currently cheaper and easier to produce than Delta 10. Using a higher ratio of D8 can also help keep the Delta 9 levels of the product below the legal limit of 0.3%.
We love to hear about and share the experiences of users with others. Please consider leaving a comment below to help others who are interested learn more about it and the best Delta 10 brands.