NuLeaf Naturals is a highly reputable brand that specializes in high-potency full spectrum tinctures and softgel capsules. All of their products are made from whole-plant hemp extract with the natural balance of cannabinoids and terpenes from the source plant.
In addition to their flagship CBD tinctures and capsules, they also offer products that feature other cannabinoids. These include CBG, CBN, CBC, and a proprietary multicannabinoid formula. All of their tinctures get high grades for quality and use pure organic hemp seed oil as the carrier oil.
NuLeaf's prices are mid-range for the market and reflect the premium quality of their products. They have earned a high rank on our recommended list because of their product quality, exceptional customer service, and overwhelmingly positive feedback from users.
CBDOilUsers.com is reader-supported. If you make a purchase using links on this page, we may earn a commission at no extra cost to you. Learn more.
20% off with code CBDOILUSERS at checkout
NuLeaf Naturals Performance Ratings
Our brand performance ratings are based on our extensive, objective research into each brand that we review. They also reflect our expert knowledge of the industry from reviewing and comparing the top CBD brands since 2017. Lastly, we incorporate direct consumer feedback that we receive each day from the nearly 300,000 members of our CBD user groups on Facebook.
NuLeaf Naturals has received an overall average rating of 4.8 stars out of 5 based on the criteria outlined below. We believe that these measures of performance are most important to consumers as they evaluate and compare different CBD brands.
All NuLeaf Naturals products are made from organically-grown hemp in ISO-certified facilities with certified Good Manufacturing Practices (cGMP). Their full spectrum CBD products also contain an impressive array of other cannabinoids including THC, CBG, CBN, and CBC. 
NuLeaf's third-party lab testing is performed by Botanacor Laboratories, a highly respected testing facility. Lab reports include full-panel test results for cannabinoid content, terpenes profile, heavy metals, pesticides and residual solvents. 
The price of their most popular full spectrum tincture (1800mg) is currently $149. That's a cost per milligram of $0.083 which is mid-range compared to the prices of other top brands that vary between $0.02-$0.20 per milligram. Be sure to use the discount code listed above for the best deal.
The NuLeaf Naturals reviews posted by customers on verified review sites and in our Facebook groups are overwhelmingly positive. The high quality and effectiveness of their products, and excellent customer service are the most common themes in these user reviews. 
NuLeaf Naturals has an exceptional reputation for customer service and handling any delivery issues. To help you resolve any issues or answer questions, they have a dedicated customer support phone number and email address listed at the top of each page of their website. 
What Sets NuLeaf Naturals Apart From Other Brands?
Unique selection of products featuring other cannabinoids (CBG, CBN, CBC) in addition to CBD.
All tinctures are high-potency and contain 60 milligrams per milliliter or dropperful (3 milligrams per drop).
Noticeably higher quality and better natural taste than most of the other full spectrum tinctures on the market.
Also ships internationally to most countries except Canada.
20% off with code CBDOILUSERS at checkout
NuLeaf Naturals Buyer's Guide
Sublingual drops (also commonly called tinctures) are the most popular way of taking CBD. Tinctures come in glass bottles with a dropper top to measure your serving size or dosage. Place the drops under your tongue and hold them there for at least 45-60 seconds for maximum absorption rates.
NuLeaf Naturals has 5 different types of tinctures so let's briefly discuss each of their options. This will help you choose the product that best fits your needs.
Please note that the benefits listed are based on our research and user reviews. The effects of specific products commonly vary by individual.
20% off with code CBDOILUSERS at checkout
Gummies are a popular way of taking CBD because of their taste and convenience. Each fruit-flavored edible has a prescribed amount of CBD which also makes dosing easier. 
More convenient to take when on the go
Better tasting than full spectrum unflavored tinctures
Easier to measure dosage (they can also be cut into pieces) 
Lower absorption rates than tinctures
Longer time to take effect (up to 1-2 hours)
Higher cost per milligram than tinctures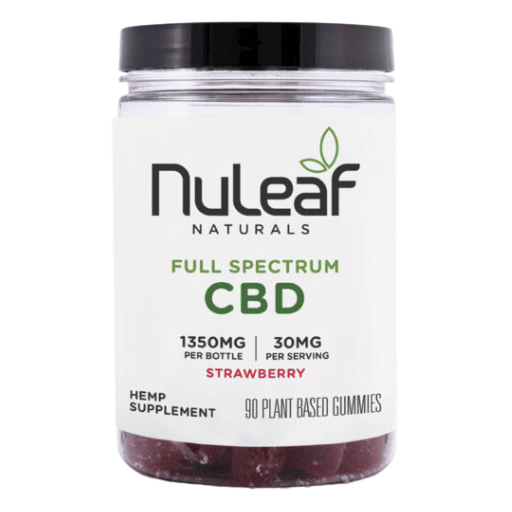 Full Spectrum CBD Gummies
Benefits: General wellness, stress & anxiety
Type: Full Spectrum (less than 0.3% THC)
Potency: 15mg of CBD per gummy
Available Sizes: 20, 60 or 90-count bottles
Flavor Options: Blueberry, Lemon, Orange or Strawberry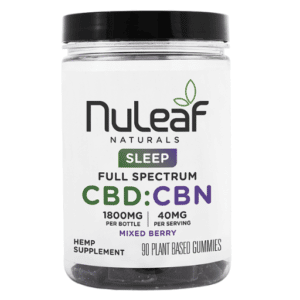 Full Spectrum CBD:CBN 3:1 Gummies
Benefits: Sleep
Type: Full Spectrum (less than 0.3% THC) 
Potency: 5mg of CBN and 15mg of CBD per gummy
Available Sizes: 20, 60 or 90-count bottles
Flavors Options: Mixed Berry or Goji Berry
If you prefer taking cannabinoid products in capsule form, NuLeaf Naturals has softgel capsules available in the same 5 formulations as their tinctures.
Softgels are be a good option if you value convenience and an easy way to know how much CBD you are taking. They are also an excellent choice if you dislike the taste of natural-flavored tinctures.
The softgels are made from the same whole-plant hemp extract as their tinctures. They are available in 20 count (300mg), 60 count (900mg), and 120 count (1800mg) bottles. Each softgel contains 15 milligrams of total cannabinoids per capsule.
The NuLeaf softgels have a smooth shape and contour so they are easy to swallow. Just be aware that it may take longer to feel the effects compared to tinctures. This is because it will take some extra time for the CBD to be absorbed into your bloodstream through the digestive tract.
More convenient to take when on the go
No "earthy" aftertaste that you'll get from the natural tinctures
Easier to measure dosage 
Lower absorption rates than tinctures
Longer time to take effect (up to 1-2 hours)
The NuLeaf Naturals hemp balm contains the same high-quality full spectrum hemp extract found in their tinctures and softgels. The balm can be a great option if you're looking for topical relief. It's applied directly to your skin and absorbs quickly. 
Pro Tip: When using the balm, the CBD won't enter your bloodstream so its benefits will generally be limited to the area where applied.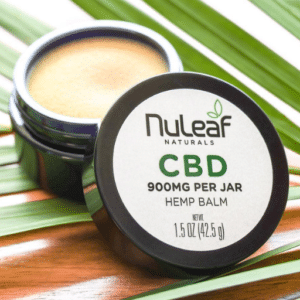 Benefits: Localized relief of discomfort in muscles & joints
Type: Full Spectrum (less than 0.3% THC)
Ingredients: Organic shea butter and full spectrum hemp extract
Available Sizes: 0.5 oz (300mg), 1.0 oz (600mg), 1.5 oz (900mg)
20% off with code CBDOILUSERS at checkout
Our Review of the NuLeaf Naturals CBD Tinctures
NuLeaf Naturals specializes in full spectrum CBD oil drops made from high-grade, organically-grown hemp extract. While other brands companies may have more diversity in their line of CBD products, NuLeaf has been focused on producing what are some of the best CBD tinctures on the market. 
The drops are available in a variety of bottle sizes ranging from 300mg of CBD in a 5ml bottle to 6000mg of CBD in a 100ml bottle. All bottles have the same high-potency formulation with 60mg of CBD per milliliter. This equates to 3 milligrams of CBD per drop.
NuLeaf packaging is top-notch. The bottles are made of a very thick glass and tinted dark to prevent UV light exposure from degrading the formulation. NuLeaf uses a dropper top with very prominent ridges that are very easy to grasp when unscrewing the dropper top. The dropper itself has a unique "bulb" tip that helps dispense accurate and uniform drops.
We also like the safety seal that NuLeaf uses. Instead of the plastic shrink-wrap that many companies use, NuLeaf uses a solid plastic ring that must be physically broken when opening the bottle for the first time. Essentially, it makes the bottles tamper-proof.
NuLeaf CBD drops are all hemp. Hemp seed oil is the carrier oil with a full spectrum extract so it has that typical "hempy" cannabis scent. The scent is on the stronger side compared to other brands. You won't detect the smell when the bottle is sealed. If you choose to use it topically on your skin, you may find that the scent lingers.
Despite the strong smell, it surprisingly doesn't carry over into the flavor quite as much as you would think. It definitely has the signature hemp flavor of a full spectrum CBD product. But it isn't too overwhelming. There is a slight lingering taste that's felt in the throat. Some new cannabis users may find it hard to swallow. But veteran users will likely find the familiar taste quite pleasant. When dispensed sublingually under the tongue as intended, the texture is very light and absorbs quickly.
The unique dropper tip makes it easy to count drops. Regardless of bottle size, NuLeaf tinctures have 3 milligrams of CBD per drop. So simply divide your desired dose by 3 to calculate the number of drops needed to achieve that dose. An opportunity for NuLeaf to improve is to include droppers with milliliter markings. Graduated droppers make it much easier to measure larger doses.
20% off with code CBDOILUSERS at checkout
Have questions about using the discount code? View our NuLeaf Naturals coupon page for answers to frequently asked questions about using it on the official NuLeaf Naturals website.
NuLeaf Naturals Serving Sizes
You may be confused as to why the potency of your NuLeaf tincture is 60mg/ml but the product label says 30mg per serving. This is simply because they consider one serving to be 0.5 of a milliliter (or a half of a dropperful). So when you consume 0.5ml of the tincture, you are taking 30 milligrams of cannabinoids. 
Similarly, they consider 2 gummies or softgel capsules to be one serving. Each gummy and softgel contain 15mg of cannabinoids per capsule. When you take 2 of the gummies or capsules, you are getting a total of 30 milligrams which is why that's shown on the label of the bottles.
Regardless of the suggested serving size, it's typically best to start low and increase slowly over time as needed until you find your personal "sweet spot" dosage. The dose that will give you the best results varies by individual so you will likely have to do some experimentation to find what works best for you.
Third Party Lab Reports & Testing Results
NuLeaf Naturals is committed to transparency and third party lab testing to ensure the quality and safety of their products. A copy of recent lab test results can be accessed through a link on the product pages of their website. It includes a full set of lab results, including the cannabinoid profile, terpenes profile, and results of testing for residual solvents, pesticides and heavy metals. 
If you've already purchased a bottle from them, you can also view the lab results for your specific product. Just visit the "batch reports" page of their website and enter the batch number that is printed on your product's label.
NuLeaf Naturals is committed to making CBD products more affordable to veterans, active mlitary, first responders, health care workers, social workers, caretakers, teachers and disabled individuals. They offer a sitewide discount to those who qualify as part of their CBD Assistance Program.
To apply for their program, just click the link above and provide the requested documentation. After you're approved, you'll receive a personalized coupon code that can be used when ordering online.
NuLeaf Naturals Reviews by Users
NuLeaf Naturals reviews by real users are shown in the comments section below.
If you've used NuLeaf Naturals products, please take a few minutes to write your own NuLeaf Naturals review. Your review will help other users get informed and find the CBD products that are right for them. Thank you!