Since its founding in 2016, CBDistillery has quickly established itself as one of the most popular, trusted, and reputable brands in the industry. CBDistillery has earned this distinction by being focused on the things that customers care about the most. These include product quality, affordable prices, and third party lab testing.
CBDistillery's prices are among the lowest available on the market. Their quality products and affordable prices make them an excellent choice for those looking for great value and a large selection of CBD products. They also have a 60-day money back guarantee on all products if you are dissatisfied for any reason.
Their stated mission is to set the standard for quality in the industry. Unlike many other brands, they perform their own extraction, lab testing, and packaging. So they are able to ensure the highest quality and consistency of their products.
All of their products are sourced from non-GMO industrial hemp that has been grown in the U.S. using organic farming practices. CBDistillery was among the first companies to be awarded the U.S. Hemp Authority's Certified Seal in March 2019.
CBDOilUsers.com is reader-supported. If you make a purchase using links on this page, we may earn a commission at no extra cost to you. Learn more.
25% off with code CBDOILUSERS at checkout
Full Spectrum Tinctures – CBDistillery's most popular product is their full spectrum drops. The drops are placed under your tongue where they absorb into your bloodstream. All of the full spectrum tinctures come in a 30 milliliter bottle and have a "natural" taste. They are available in different potencies ranging from 500 milligrams to 5,000 milligrams of CBD in the bottle. 
Broad Spectrum Tinctures – recommended for those who want the wellness benefits of whole-plant hemp extract with lower levels of THC. The broad spectrum drops are available in potency ranging from 500 milligrams to 2,500 milligrams of CBD in a 30 milliliter bottle.
Isolate Tinctures – these "THC-free pure" drops are formulated with CBD isolate and are THC free based on lab testing. Unlike the full spectrum and broad spectrum drops, the isolate drops don't contain other cannabinoids or terpenes. They are flavorless and also available in your choice of potency.
CBG Tincture – full spectrum drops with a 1:1 ratio of CBD and CBG. The 1000 milligram tincture has 500 milligrams of CBD and 500 milligrams of CBG. Known as the "stem cell" of CBD, CBG is gaining popularity among those interested in its unique benefits.
CBN Sleep Tincture – full spectrum drops with a 1:3 ratio of CBN to CBD. Each 30ml bottle has 150mg of CBN and 450mg of CBD. Known as the "sleepy cannabinoid", this tincture is popular among those interested in trying CBN as a sleep aid.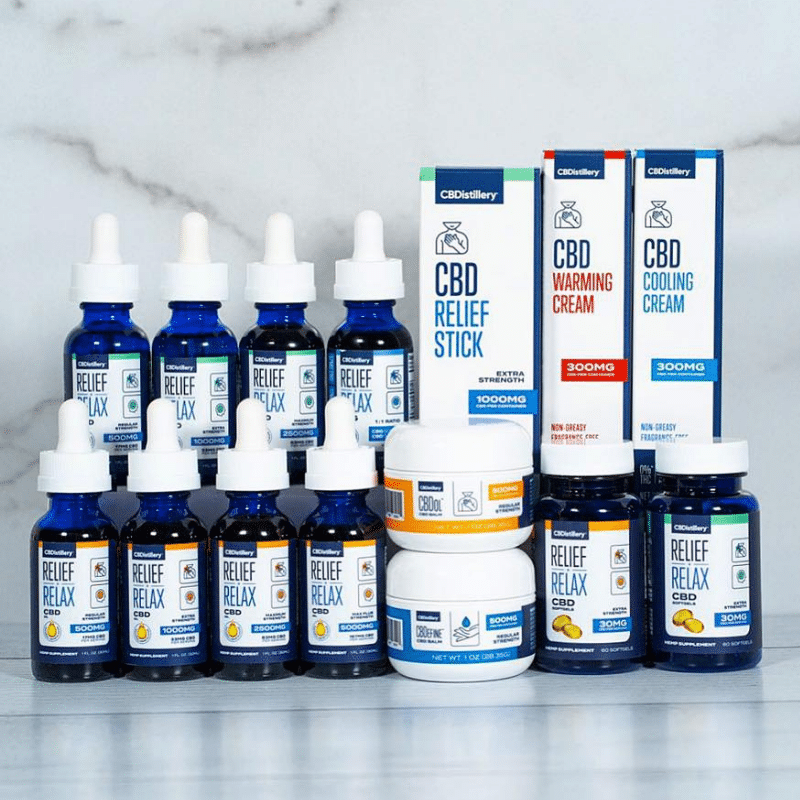 CBD Gummies – their popular full spectrum and broad spectrum CBD gummies have a delicious, fruity taste. Each gummy has 30 milligrams of CBD. They are gluten-free, allergen-free, vegan, and kosher. The "sleep" version of the gummies also contain melatonin to help promote restful sleep.
Softgel Capsules – their full spectrum, broad spectrum and isolate softgels are a convenient way to take CBD on the go. They come in bottles of 30 or 60 softgels.
Full Spectrum Topical Salve – their popular CBDol topical salve and CBDefine skin care cream are applied directly to the skin for localized relief and recovery.
Warming and Cooling Creams – these broad spectrum topical creams have 300 milligrams of CBD in a 50 milliliter bottle and are applied topically for targeted relief.
Topical Relief Stick – the CBDol relief stick has 500mg of broad spectrum CBD and comes in a roll-on stick to apply topically.
Pure CBD and CBG Isolate Powder – great affordable option for those interested in making their own CBD or CBG products, vaping isolate or using these cannabinoids as a food ingredient.
CBD Oil for Pets – the pet tinctures are similar to the "human" version full spectrum tinctures except they use hemp seed oil as the carrier oil instead of MCT coconut oil. They are available in two potencies: 150 milligrams for smaller pets or 600 milligrams for medium or large pets. Our complete guide to CBD oil for dogs is a great resource for pet owners.
25% off with code CBDOILUSERS at checkout
CBDistillery Synergy Collection
First released in October 2021, this unique collection of hemp and other plant-based products is unlike anything else on the market. These products go beyond just CBD alone to with the goal of providing maximum health and wellness benefits. They are specially formulated with other cannabinoids including CBG, CBN and CBDA. Some also include complementary ingredients such as functional mushrooms and kava root.
The CBDistillery Synergy Collection is made up of 4 categories:
Daytime Synergy – tincture, gummies and drink mix with a 1:1 ratio of CBD and CBG plus other natural cannabinoids and terpenes. Formulated for everyday use. 
Sleep Synergy – full spectrum tinctures, gummies  and drink mix with a 3:1 ratio of CBD and CBN. Created to promote sleep improvement.
Raw Synergy – tincture with a 1:1 ratio of CBD and CBDA plus a terpene profile that is unique to raw CBD extracts. CBDA is best known for its potential anti-inflammatory properties.
Wellness Synergy – full spectrum capsules with unique blends of cannabinoids and other special ingredients. The "Focus" blend combines CBD, CBG, Lion's Mane and  Cordyceps mushrooms. "Unwind" contains CBD, CBN, Reishi and Chaga mushrooms. The "Calm" blend is a formulation of CBD and kava root. 
How to Use the CBDistillery Coupon Code
CBDistillery makes it easy to use our exclusive CBDOILUSERS coupon code for a 25% discount on every order.
When you add a product to your cart, you'll see an overlay of your cart and be given the opportunity to start the checkout process. You can also add more products to your cart before completing your order.
When you're finished adding products to your cart, the coupon code field is near the bottom of the cart overlay, just above the checkout button.
You simply enter the CBDOILUSERS coupon code in that field and then click the "Apply" button. The total amount is then updated to include the discount and you can then click the "Checkout Securely" button to complete your order.
Frequently Asked Questions :
Are there any restrictions on use of the coupon code? No, our exclusive code will apply savings to all products in your order. The coupon code CBDOILUSERS will save you 25% on first-time and future orders.
Is there a limit on how much I can save? No, the code will apply a 25% discount to your entire order regardless of dollar amount. There is also not a minimum purchase required to use the code.
Is there an expiration date for this coupon? No, our exclusive promo code does not expire and can be used by customers at any time. If you have issues using any CBDistillery coupons, reach out directly to the company using the "Contact Us" link on their website for assistance.
Third Party Lab Reports & Testing Results
We only recommend brands that do extensive third party lab testing of their products and make those reports easily accessible by customers. Third party lab testing of each product batch is important. It's really the only way to know what's in the product and that it's safe.
CBDistillery posts a recent third party lab report on each product page of its website. You can also access a copy of lab results for your specific product's batch by scanning the QR code using your smartphone.
CBDistillery Reviews by Users
CBDistillery reviews by real users are shown in the comments section below.
If you've used CBD oil products from CBDistillery, please take a few minutes to write your own CBDistillery review. Your review will help other users get informed and find the CBD oil products that are right for them. Thank you!