4 Corners Cannabis is a boutique "seed to sale" brand that we consider to be among the best when it comes to product quality and customer service. They grow their own cannabis in the Four Corners region of Colorado and extract their product using organic sugar cane ethanol to ensure the fullest representation of the plant's all-natural genetic composition. 
Their proprietary hemp strain has been bred specifically for its high CBD content and is considered superior to the mass-produced industrial hemp used by some larger brands. The genetics of their flower not only boast high levels of cannabinoids but also have high levels of terpenes which can greatly increase  effectiveness through the "entourage effect."
The 4 Corners brand isn't as well known as some of the others on the market. But we rate the quality of their products at or near the top of the industry. They have a loyal following of customers who love their exceptional product quality and passion for helping others achieve their wellness goals.
Those who have tried other brands without success or those who are looking for some of the highest quality CBD products available would be wise to consider this premium brand.
CBDOilUsers.com is reader-supported. If you make a purchase using links on this page, we may earn a commission at no extra cost to you. Learn more.
25% off with code CBDOILUSERS at checkout
4 Corners Cannabis Products
Oral Tincture – 4CC's most popular product is their full spectrum "blue label" CBD oil drops. These drops are taken orally and should be held under the tongue for 30-60 seconds. This allows the product to absorb sublingually into your bloodstream through the mucous membranes under the tongue.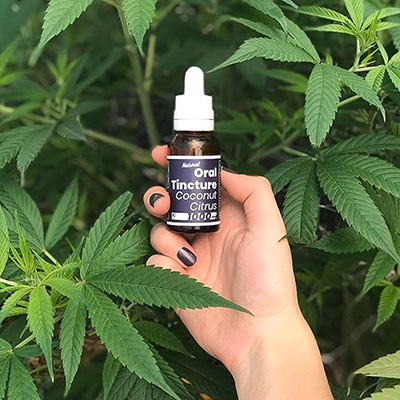 Glycerin Tincture – their full spectrum "orange label" drops are designed for vaping. They can also be taken orally and use VG (vegetable glycerin) as the carrier oil instead of MCT coconut oil.
Cinnamon Oral Tincture – the full spectrum "red label" drops are a flavored alternative to the regular oral tincture. Blended with organically extracted cinnamon, this tincture has a sweet and spicy taste with all the effectiveness of the original version. The cinnamon tincture has a glycerin carrier oil so is a great option if you are sensitive to coconut oil.
Avocado Oil Tincture – full spectrum CBD oil drops with virgin organic avocado oil as the carrier oil. Another alternative to the "blue label" drops for those with a coconut or citrus allergy.
THC-Free Tinctures – great tasting alternative for those with an aversion to THC. The THC-free tinctures are available in either choco mint or coconut citrus flavor.
Pet Tincture – CBD oil drops formulated for pets. Similar to the "blue label" drops but without limonene.
Full Spectrum CBD Gummies – the easiest and best tasting way to take 4CC's CBD. Each gummy contains 25mg of full spectrum CBD along with real fruit and local Colorado honey. Available in 3 flavors: mango goldenberry, lemon ginger and elderberry reishi.
CBD Salve – topical product that can be applied directly to the skin. Ingredients include hemp extract, coconut oil, beeswax and antioxidants.
CBD Salve Stick – designed to be an "on the go" version of the CBD salve product.
CBD Honey – local honey infused with 4CC's premium hemp extract that can be added to foods and drinks.
25% off with code CBDOILUSERS at checkout
How to Use the 4 Corners Cannabis Coupon Code
4 Corners Cannabis makes it easy to use our exclusive CBDOILUSERS coupon code for a 25% discount on every order.
When you add a product to your cart, you'll be taken to the "My Cart" page. You can click the "Keep Shopping" link to add more products or start the checkout process. 
On the "My Cart" page, you'll see a coupon code field beneath the products in your cart. Enter the CBDOILUSERS code in that field and click the "Apply Coupon" button. The discount will then appear in the Cart Total box and you can continue with the checkout process.
Frequently Asked Questions :
Are there any restrictions on use of the coupon code? The coupon code can't be used for their $9.99 sample bottles and it can't be combined with other discounts. 
Is there a limit on how much I can save? No, the code will apply a 25% discount to your entire order regardless of dollar amount. There is also not a minimum purchase required to use the code.
Is there an expiration date for this coupon? No, our exclusive promo code does not expire and can be used by customers at any time. If you have issues using any 4 Corners Cannabis coupons, reach out directly to the company using the "Inquiries" link on their website for assistance.
4 Corners Cannabis Reviews by Users
4 Corners Cannabis reviews by real users are shown in the comments section below.
If you've used CBD products from 4 Corners Cannabis, please take a few minutes to write your own 4 Corners Cannabis review. Your review will help other users get informed and find the products that are right for them. Thank you!