Many CBD oil users prefer to use CBD by applying it directly to their skin in the form of creams, lotions, salves or balms. Topicals and transdermal are especially popular among those seeking direct, localized and targeted pain relief.
Below is our list of recommended online sellers of the best CBD topicals and transdermal products. The options below are great choices from companies that deliver a high quality product and exceptional customer service.
CBDOilUsers.com is reader-supported. If you make a purchase using links on this page, we may earn a commission at no extra cost to you. Learn more.
20% off with code CBDOILUSERS at checkout
cbdMD has an impressive lineup of broad spectrum topicals. Freeze pain relief gel is formulated to relieve muscle aches, back pain and joint pain. Recover inflammation cream and Revive lotion are designed to target inflammation for optimal recovery.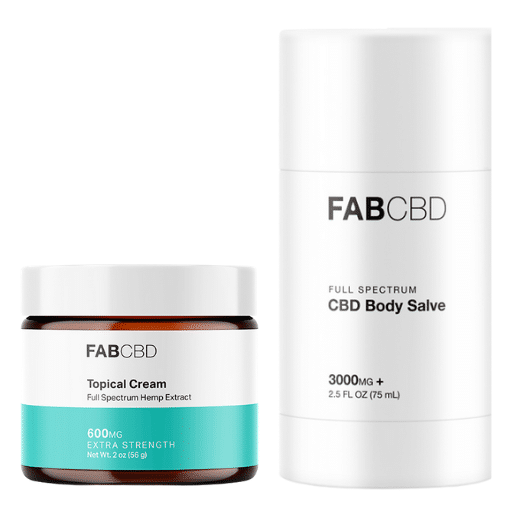 30% off with code CBDOILUSERS at checkout
Fab CBD offers 2 very popular full spectrum topicals. The body salve is a roll-on that contains essential oils, organic ingredients and a calming menthol scent. Their topical cream has a subtle blood orange scent and silky smooth texture. Specially formulated for pain relief.
20% off code ONETIME20 or 5% off code CBDOILUSERS
Lazarus Naturals has a wide selection of full spectrum topicals, including lotions, balms and massage oil. The lotions and balms are available in unscented and a variety of scents.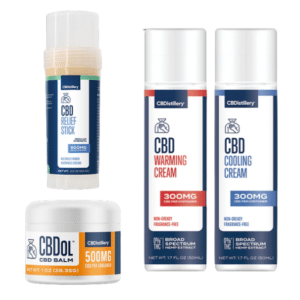 25% off with code CBDOILUSERS at checkout
CBDistillery has several popular CBD topical options, including a broad spectrum relief stick, broad spectrum warming or cooling cream, and a full spectrum topical salve.
25% off with code CBDOILUSERS at checkout
Harmony CBD's lineup of full spectrum topical products includes balms, lotions and a muscle rub roll-on. The lotions and balms are available in 3 different formulas: Relief, Heal and Calm.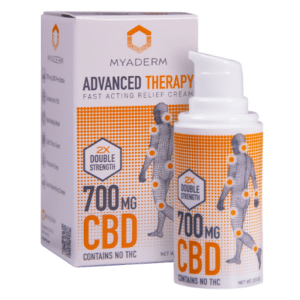 10% off with code CBDUSERS10 at checkout
Pharmacist-formulated transdermal CBD advanced therapy cream. Designed to help reduce inflammation and relieve joint and muscle pain. Myaderm CBD is available in regular strength and double strength.
What are CBD Topicals?
CBD topicals can be great options for those who have physical ailments and skin conditions. They are applied to the skin via a cream, lotion, or balm Topicals are convenient, user-friendly and can provide targeted relief.
These topicals require very little to no guesswork when it comes to dosage. You just use it as needed, as often as needed, directly on the spot that hurts.
The risk of testing positive on a drug test is also much lower with topicals than sublingual drops and other popular delivery methods. This is because the ingredients, including the trace amounts of THC in full-spectrum CBD topicals, generally don't enter your bloodstream.
What's the Difference Between Topical and Transdermal products?
CBD topical creams, lotions, salves and balms are applied directly to the skin. They generally only work on the top 3 layers of the skin. With topicals, the product does not enter the bloodstream. But they can be an effective option for direct, localized pain relief.
Transdermal products are applied to the skin but actually absorb into and penetrate through the skin. With transdermal delivery systems, the product does enter the bloodstream. So they can be an effective option for targeted pain relief, and for your entire body.
Related article: What's the Difference Between Topical and Transdermal CBD Products?
Will CBD Topicals Make Me Test Positive on a Drug Test?
As mentioned above, topical products do not enter your bloodstream. So it's highly unlikely that even a full spectrum CBD topical would result in a positive drug test for THC. Transdermal products do enter your bloodstream so you would want a product from pure CBD isolate (0% THC) if drug testing is a concern.
Will CBD Creams, Lotions or Balms Work for Me?
Unfortunately, no product is effective for everyone. Each person has a unique endocannabinoid system and set of conditions that they are looking to treat. We have CBD oil user reviews for most major brands that you can use to see what has worked for others. But there is no guarantee that a product that worked for someone else will work the same for you. Most experienced users learn to try a few different products before finding the one that works best for them.
CBD Creams and Lotions for Dry, Itchy Skin
The majority of CBD topicals (creams, lotions, balms and salves) are focused on relieving muscle or joint pain. But they can also be used to treat skin conditions.
In the case of cracked, bleeding skin, be sure to pick something with ingredients that wont cause irritation. Many CBD products contain cooling ingredients, such as menthol, capsaicin, or peppermint extracts that could leave your irritated skin worse off than it was before.
For dry or irritated skin, stick with something simple or consider layering things up. A simple beeswax balm infused with CBD oil is kind to the skin. It's a moisturizing emollient, as well as an occlusive. This means that while it moisturizes and the CBD heals, it's also preventing further damage by keeping the skin protected and preventing moisture from escaping.
Can I Use My Regular CBD Drops on My Skin?
If you don't want to buy an entirely new CBD product for your dry skin, your sublingual oil might do the trick. Applying the CBD oil to the skin and layering it with Vaseline or another lotion is an excellent and cost effective approach. It can provide your skin with the healing properties of CBD and the moisturizing and occlusive properties of the other products.
If your problem area is especially bad around the feet or hands, consider applying generous amounts of the CBD product before bedtime. Then cover them with socks or gloves, and sleep that way overnight. This gives the CBD time to really soak in and go to work before it's rubbed off.
You can even make your own skin-friendly CBD products with CBD isolate and your favorite butters, beeswaxes, and other ingredients! Jojoba, almond, rosehip, and hemp seed oil all make wonderful, healing additions to your custom CBD skin care product.