Many users wonder whether they can legally take CBD oil on an airplane. It's a popular question because most people want to continue taking CBD while travelling. A lot of people also use CBD oils to help relieve their anxiety and stress associated with flying. 
Is It Legal to Fly with CBD Oil?
Yes, CBD products are officially allowed on domestic flights in the United States as long as they are "hemp-derived." This means that they contain less than 0.3% THC. By law, all CBD products that are sold online or in local stores meet this criteria. 
In May 2019, the Transportation Security Administration (TSA) updated their guidelines to clearly state that hemp-derived CBD products can legally be taken on an airplane. The updated guidelines apply to both carry-on and checked bags. In December 2018, hemp-derived CBD oil products were made federally legal in the U.S. with the signing of the 2018 Farm Bill. So the TSA guideline is an extension of that federal law that legalized hemp and its extracts.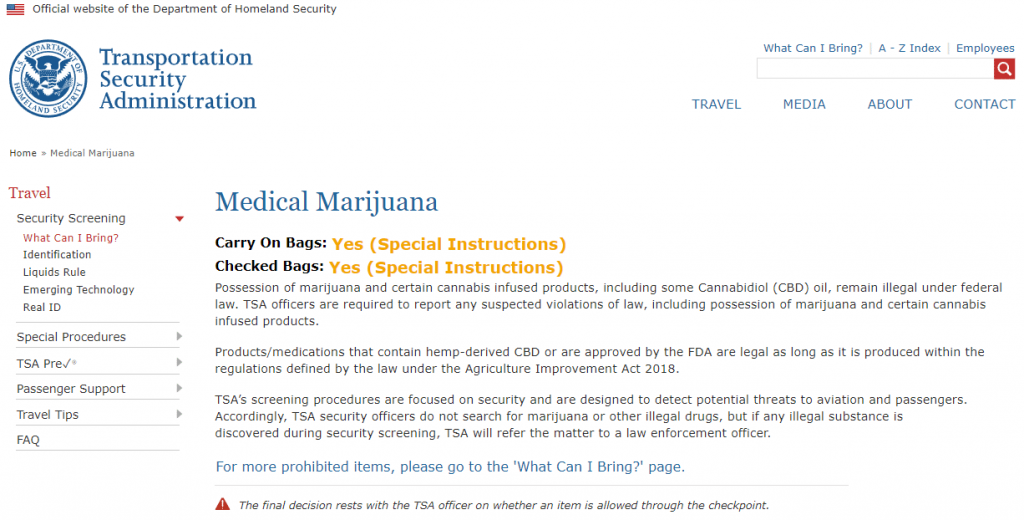 Tips for Flying with CBD Oil
It's legal to bring your CBD oil on an airplane but that doesn't mean it will always be a smooth trip through security. Here are some tips for flying with CBD oil that may make your trip easier.
Put your CBD oil in your carry-on bag
Your carry-on bag is a safer place for fragile items such as the glass dropper bottles. If you carry your CBD oil on the airplane with you,  it will also be in a climate-controlled area and help prevent leaks.
It's highly unlikely that you'll have any issues going through security. But you may want to bring a copy of your product's third-party lab report just in case. This report can usually be easily accessed from the website of the company that you bought if from. If an issue does arise, it will prove that your CBD product is hemp-derived and allowed under the TSA's criteria.
Pack your CBD oil with your other liquids
Yes, your CBD oil drops will be considered a liquid. So your bottle needs to be less than 3.4 ounces (100 milliliters) and fit in the quart-sized clear plastic bag with your other liquids. Most CBD oil bottles are only one ounce (30 milliliters) and qualify under the TSA liquids rules.
If you don't have room in your bags for your CBD oil, consider mailing it to yourself at your destination. Alternatively, research some local stores at your destination where you can pick up a small bottle to use while you're away from home.
Can I Fly Internationally with CBD Oil?
The TSA regulations only apply to domestic flights. For international flights, travelling with any type of CBD oil product could still be an issue. This is because you have to go through customs upon arrival in a different country than you departed from. The laws that govern the type of products that can be brought into a country can vary widely.
If you want to be on the safe side, we advise that you not bring any CBD products with you on an international flight. If you are committed to bringing them with you, then we highly recommend that you research the list of restricted and prohibited items for any countries where you'll be going through customs.
What About Taking CBD Products with Higher THC Levels on an Airplane?
CBD products with more than 0.3% THC are considered to be from marijuana. Since marijuana is still illegal under U.S. federal law, those products cannot be taken in carry-on or checked bags per the current TSA guidelines.
While the TSA is not actively searching for illegal substances, their policy is to call local law enforcement if they do come across it. At that point, there are no certainties about what would happen. Be sure to check with the local laws before attempting to travel with CBD products with more than 0.3% THC.