Fibromyalgia is one of the most common conditions of those who take CBD products as a natural supplement. And one of the most commonly asked questions that we hear from people is "What is the best CBD oil for fibromyalgia?"
The honest answer to that question is that there is no "best" for everyone looking to try CBD oil any specific condition. Each person has a unique endocannabinoid system and body chemistry. So a particular CBD brand or product that works well for one person with fibromyalgia may not work for you at all.
There are some things to know that can improve your chances of finding a CBD product that works for you. These are discussed below and include knowing what cannabinoids and terpenes may be best for fibromyalgia. But it's still good to have realistic expectations that it will likely take some trial and error with different brands and dosage levels.
What Cannabinoids Are Best For Fibromyalgia?
Cannabinoids are the chemical compounds in cannabis. Different cannabinoids produce different effects, depending on which receptors they bind to in the brain.
The cannabinoid chart below shows which cannabinoids may help treat symptoms of different conditions. CBD (cannabidiol), CBG (cannabigerol), CBN (cannabinol) and THC (tetrahydrocannabinol) are identified as most relevant for fibromyalgia in particular.
Thus, those interested in CBD oil for fibromyalgia should likely focus on products that have a full spectrum of cannabinoids.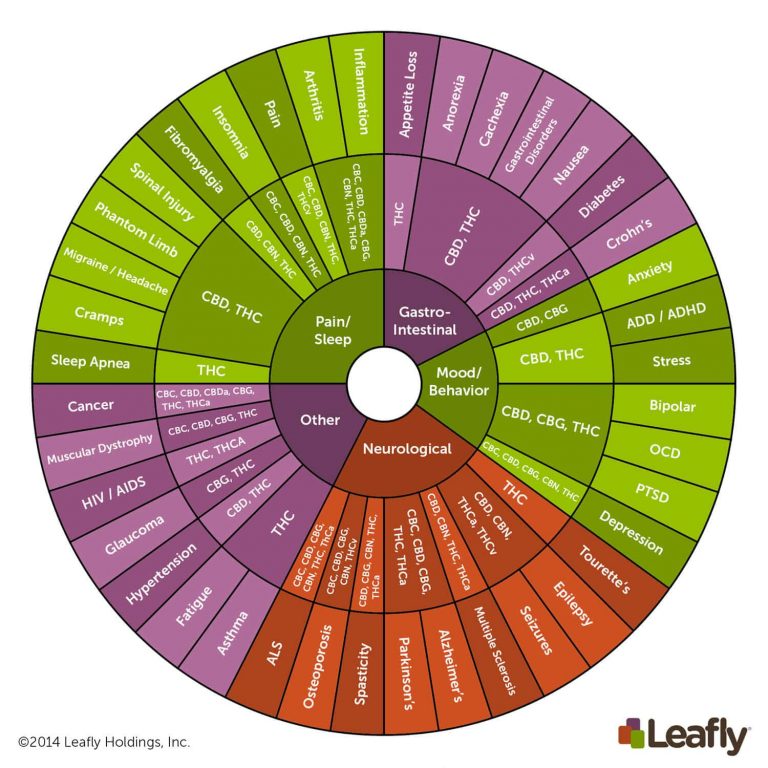 What Terpenes Are Best For Fibromyalgia?
Terpenes are essential oils found in all plants, flowers, vegetables and herbs, and they have healing properties by themselves. Several terpenes in cannabis are believed to have useful therapeutic properties.
Based on the chart below, Beta Caryophyllene, Humulene and Pinene in particular are identified as having anti-inflammatory properties that may be useful for those suffering from fibromyalgia.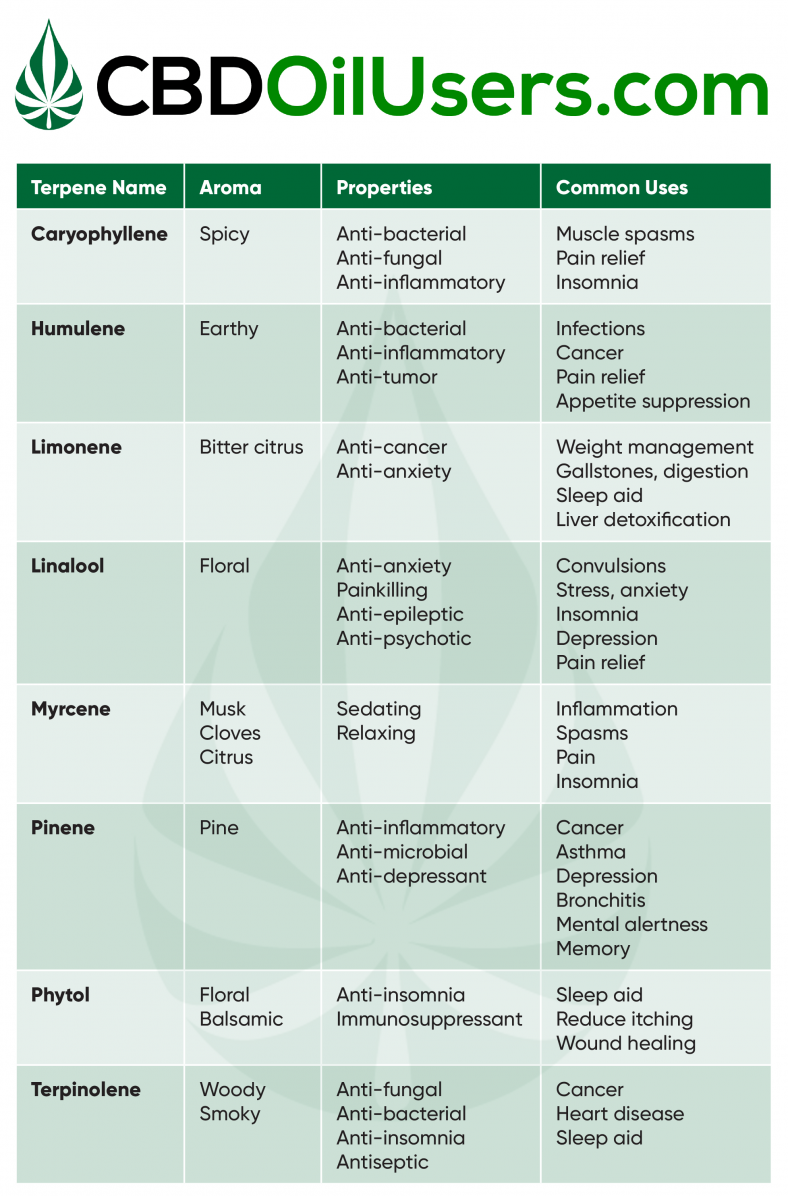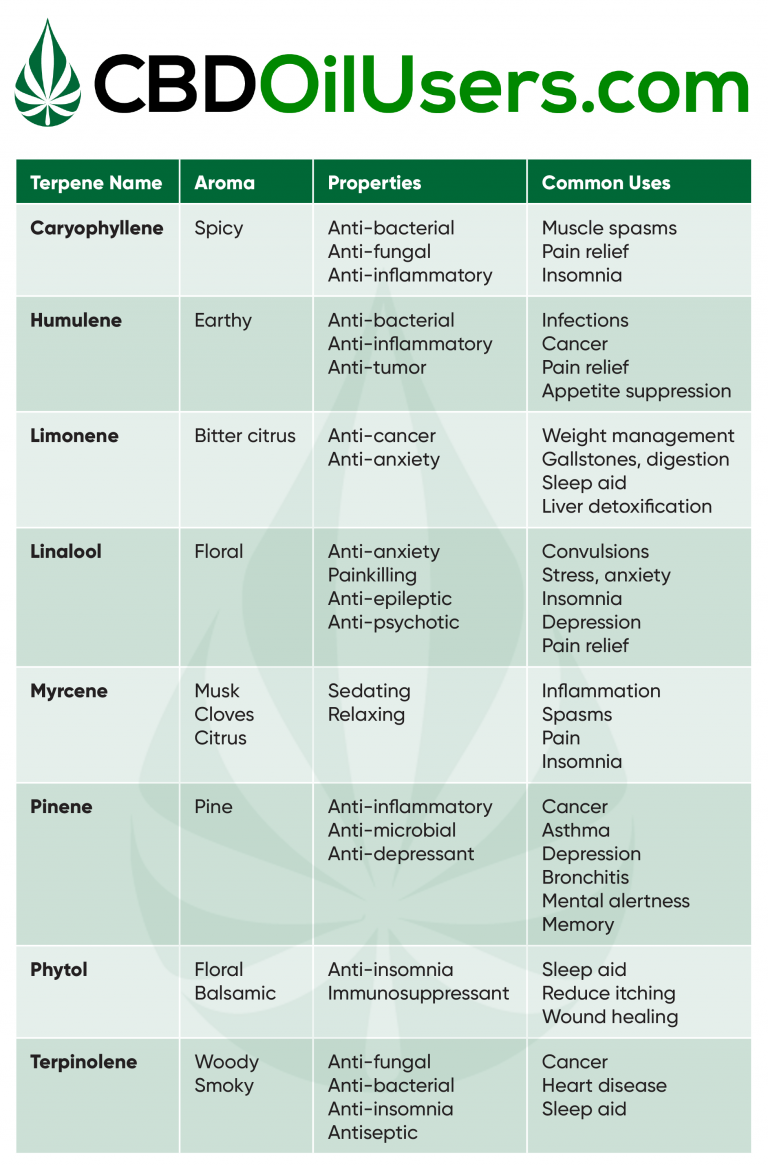 What Delivery Methods Are Best For Fibromyalgia?
Sublingual drops that you place under your tongue are the most popular choice for those with fibromyalgia. Drops are the most popular way to take CBD oil and take effect relatively quickly. Just be sure to hold the drops under your tongue for at least 45-60 seconds. This allows the product to be absorbed into your bloodstream.
Oral consumption (capsules, gelcaps and gummies), topicals and transdermals are also popular choices.
What CBD Brands Are Best For Fibromyalgia?
Based on the information above, those interested in CBD for fibromyalgia may want to look for products with higher cannabinoid levels of CBD, CBG, CBN and THC and higher levels of the terpenes Caryophyllene, Humulene and Pinene.
When choosing a particular brand of CBD for fibromyalgia, some research on your part can improve you chances of finding one that may be best for you. We recommend that you only purchase from brands that have third party lab reports posted on their website or that readily make them available to you.
The contents of third party lab reports can be quite insightful, particularly the cannabinoid profile and terpenes profile sections. These lab reports can tell which which cannabinoids and terpenes are in the product and at what levels based on the third party testing.
CBDOilUsers.com is reader-supported. If you make a purchase using links on this page, we may earn a commission at no extra cost to you. Learn more.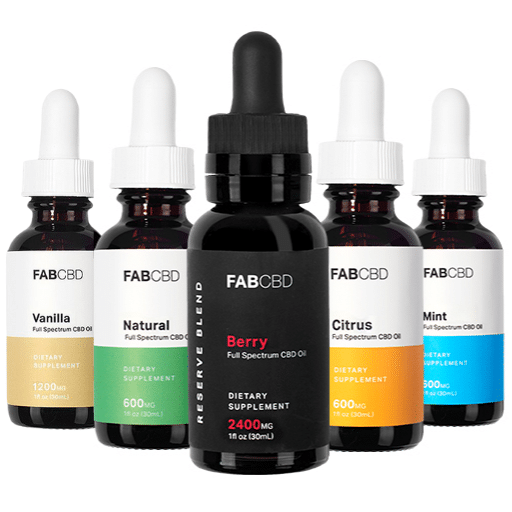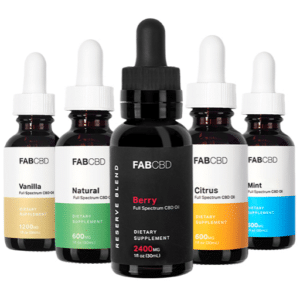 30% off with code CBDOILUSERS at checkout
Full spectrum CBD and CBG tinctures and CBD body salve. 5 tincture flavor options (natural, citrus, mint, berry or vanilla).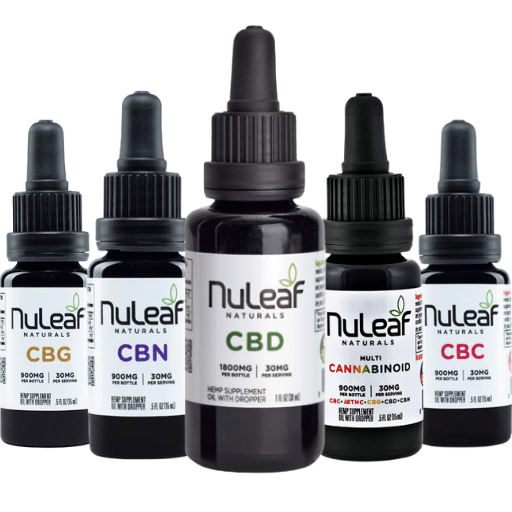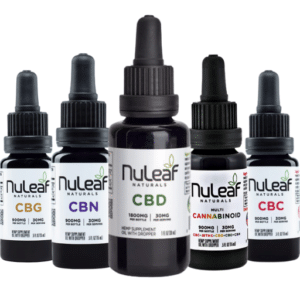 20% off with code CBDOILUSERS at checkout
High-potency full spectrum CBD, multicannabinoid, CBG, CBC and CBN tinctures and capsules made from organically-grown Colorado hemp. Free U.S. shipping. Also ships internationally.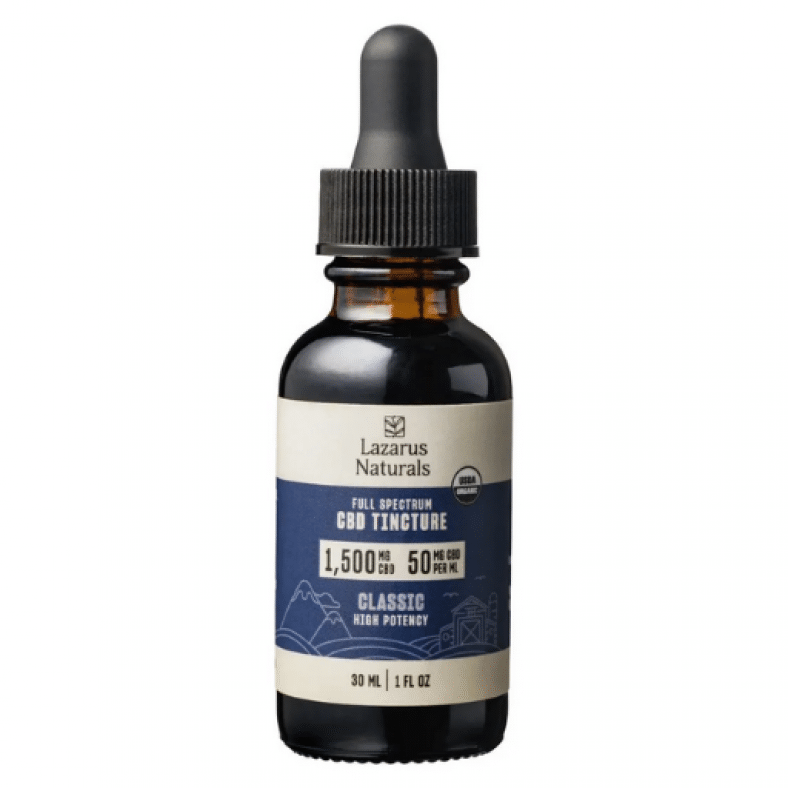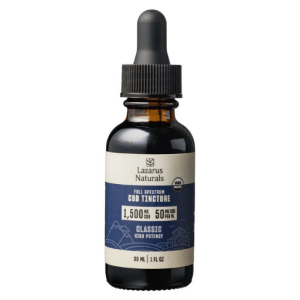 20% off code ONETIME20 or 5% off code CBDOILUSERS
Full spectrum tinctures, gummies, capsules and topicals. Lowest prices in the industry. 90-day money back guarantee.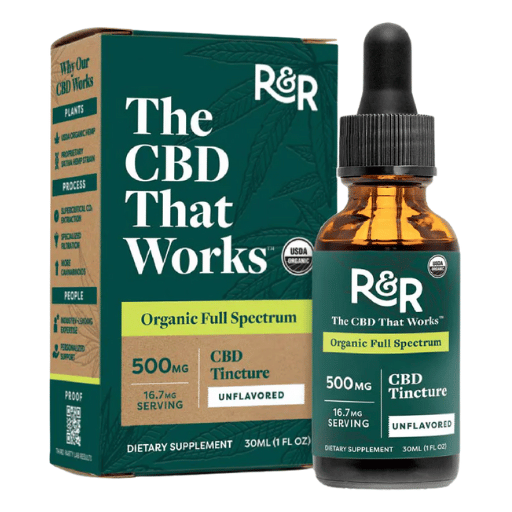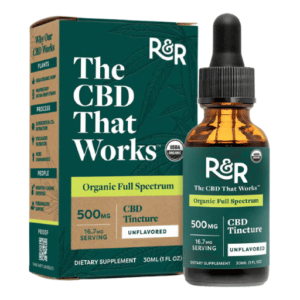 20% off with code CBDOILUSERS at checkout
Full spectrum and broad spectrum (THC-free) tinctures, gummies, softgels and topicals. USDA certified organic. 60-day money back guarantee. Also ships internationally.
You can also buy terpenes separately and add them to your favorite CBD products. We recommend True Terpenes, because it is the recognized industry-leading seller of terpenes.
CBD Dosage For Fibromyalgia
Standard recommendations for CBD dosage apply to those taking CBD oil for fibromyalgia. How much you take on a daily basis is something that will require some experimentation and "trial and error."
Studies on CBD and Fibromyalgia
Join Our CBD Oil Users Group on Facebook
Have You Successfully Used CBD for Fibromyalgia?
If you've taken CBD products for fibromyalgia and had success, please take a few minutes to briefly describe your journey for others. Please scroll down to the "LEAVE A REPLY" section at the bottom of this page to add your success story.
Your story will help other users get informed and find the products that may be right for them. Thank you!