Charlotte's Web is a world-renowned brand of CBD products with a simple purpose: to better the planet and the people living on it. 
They have been a leader in the CBD industry since 2013 when they gained national prominence from being featured in a CNN Special Report by Dr. Sanjay Gupta. The story of Charlotte Figi and how the high CBD product developed by the Stanley Brothers helped her ignited the public's interest in CBD oil.
Today, their proprietary full spectrum hemp extract continues to make them one of the most popular CBD brands on the market. Their product line has grown to include tinctures, gummies, capsules, topicals and pet products – all featuring their unique formula.
CBDOilUsers.com is reader-supported. If you make a purchase using links on this page, we may earn a commission at no extra cost to you. Learn more.
15% off with code CBDOILUSERS at checkout
Which Charlotte's Web CBD Oil is Right for You?
The Charlotte's Web product line consists of 4 full spectrum oils, 1 isolate oil, 3 options of gummies, 2 options of capsules, 3 topicals, drops for dogs and 3 options of dog chews. All of their products are now CO2 extracted, with the exception of the Original Formula (50 mg) product. The Original Formula oil still uses the original IPA extraction process.
All of their products use the same source hemp extract. You may see some differences between the Original Formula (50 mg) and the rest of the line (7 mg, 17 mg and 60 mg) due to the different extraction processes. The 7 mg, 17 mg and 60 mg tinctures can generally be thought of as the exact same product. The difference is the potency or increasing degree of concentrated, full spectrum hemp extract.
If you haven't used CBD before, the 17 mg tincture is a good choice to start with. It's lower in potency than the 50 mg or 60 mg options, but it is an affordable way to try the Charlotte's Web product to see if it works well for you. 
One benefit of buying the higher-potency products is a lower cost per milligram. Another benefit is that you can take less oil to get the same dose. For example, you would need to consume 2 milliliters (dropperfuls) of the 17 mg tincture to get 34 milligrams of CBD whereas you would only need to consume 0.5 milliliters (or a half of a dropperful) of the 60 mg tincture to get 30 milligrams of CBD.
The Charlotte's Web gummies are available in 3 different formulas: "Sleep", "Recovery" and "Calm." Each of the 3 options come in 60-count containers and contain 5mg of CBD per gummy. All of the CW gummies are full spectrum and contain over 80 naturally-occurring cannabinoids plus terpenes. 
The suggested serving size is 2 gummies for each of the formulas. Since each gummy contains 5mg of CBD, that is a total suggested serving size of 10 milligrams. If you're taking one serving per day, then each 60-count container will last you a month. The suggested serving size is just a suggestion. You may find that you need to take less or more than 2 gummies for you to get optimal results.
In addition to being sold individually, there is also a CBD Gummy Mix Pack. It contains a container of each formula for a special price that is 20% off the cost of buying each individually.
Do Their Products Contain CBD?
Charlotte's Web products are labeled as "hemp extract." As a result, you may be unsure as to whether CW products contain CBD. Rest assured, Charlotte's Web products do indeed contain CBD! It's not uncommon for brands to say hemp extract on their labels for regulatory reasons.
15% off with code CBDOILUSERS at checkout
Charlotte's Web Dosage Guide
How much Charlotte's Web you should take depends on a variety of factors, including the specific product that you've chosen. Their CBD oil drops range in concentration from 7 milligrams of CBD per milliliter to 60 milligrams per milliliter.
With all Charlotte's Web products, we recommend starting "low and increasing slow" to find your "sweet spot" dosage. This means taking only a small amount of CBD at the start, and slowly increasing it over the course of a few weeks.
A common starting amount would be 5-10 mg of CBD per day for a week. Generally, this is split up into 2-3 daily doses per day. You can then gradually increase the amount over time until you find what works best for you. 
When starting out, using a dosing log is recommended. Keeping track of how much you are taking, how often, and what benefits you are experiencing will help you find your optimal dose.
How to Use the Charlotte's Web Coupon Code
Charlotte's Web makes it very easy to enter your coupon code and save money on your online order.
After you've added all the product that you want to buy to your shopping cart, click the "View Cart" button. Below the products shown in your Shopping Cart, you'll see a "Discount Codes" section. There is a coupon code field in that section of the shopping cart page.
Enter your coupon code into this field and then click the "Apply" button. You should then see a message that says "Coupon code was applied." You'll also see the discount applied to your order.
To finalize your order, click the "Go To Checkout" button. During the checkout process, you'll enter your billing address, shipping address, shipping method and payment information.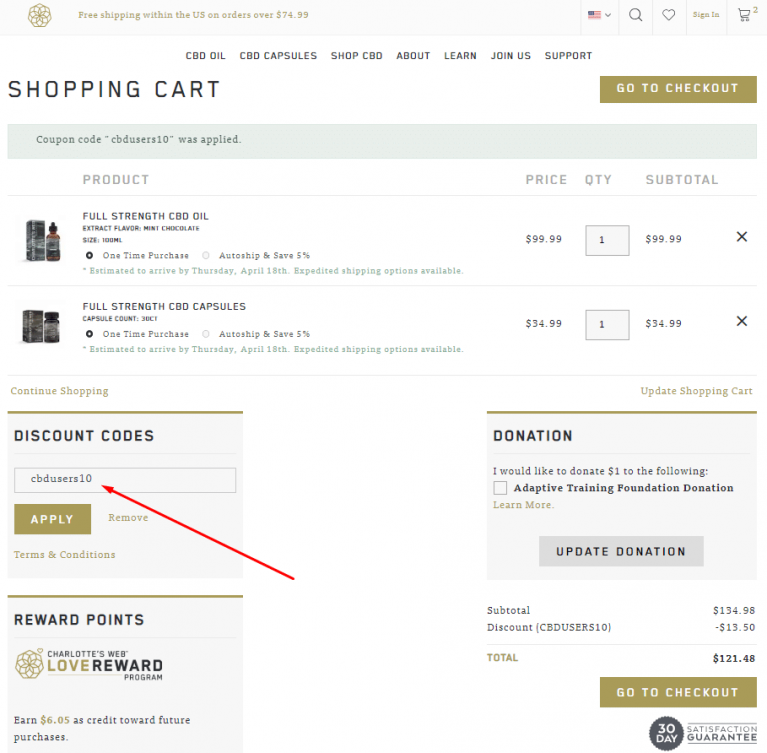 Are there any restrictions on use of the Charlotte's Web coupon code?
The coupon code is not valid on bundles or bulk packages.
Is there any dollar limit on how much I can save with the Charlotte's Web promo code?
No, there is no limit on savings from using the Charlotte's Web coupon code.
What if the coupon code isn't working for me?
If you have any issues with the checkout process, you can contact Charlotte's Web customer service for assistance. You can reach them by phone at (855) 790-8169. There is also a contact form via the "Contact Us" link at the bottom of their website.
Charlotte's Web Reviews by Users
Reviews of Charlotte's Web by real users are shown in the comments section below.
If you've used CBD products from Charlotte's Web, please take a few minutes to write your own review in the "LEAVE A REPLY" section at the bottom of the reviews shown on this page. Your review will help other users get informed and find the CBD products that are right for them. Thank you!
Important disclaimers:
The following Charlotte's Web reviews are made by consumers. Charlotte's Web does not endorse, support, or affirm the reviews or recommendations.
These statements have not been evaluated by the Food and Drug Administration. Charlotte's Web products are not intended to diagnose, treat, cure or prevent any disease.