Moonwlkr is a safe and reputable brand of hemp-derived cannabinoid products based in Henderson, Nevada. They've quickly become one of the most popular brands for Delta 8 products in particular. 
Their Delta 8 product line is focused on the two most common ways of taking it: gummies and vaping. In addition to Delta 8, they also have a unique line of CBD tinctures and gummies.
Overall, Moonwlkr reviews by users have been overwhelmingly positive. Customers generally rave about the effectiveness of their products and the great customer service of this brand.
CBDOilUsers.com is reader-supported. If you make a purchase using links on this page, we may earn a commission at no extra cost to you. Learn more.
15% off with code CBDOILUSERS at checkout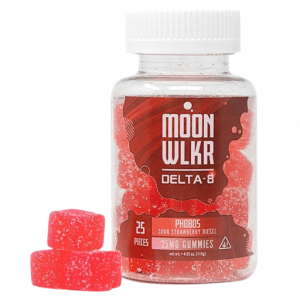 Delta 8 Gummies
Moonwlkr's most popular product is their D8 gummies. That's likely because gummies are the easiest and most convenient way to take Delta 8. The Moonwlkr gummies are available in a variety of fruit flavors. Each bottle contains 50 gummies with 12.5 milligrams of Delta 8 per gummy.
When consuming these edibles, just remember that it can take up to 2 hours for you to feel the effects. So be patient – especially if you've never used cannabis edibles before. We recommend starting with 1/4 of a gummy. Starting low and increasing slowly will help you understand your individual tolerance and find your optimal amount.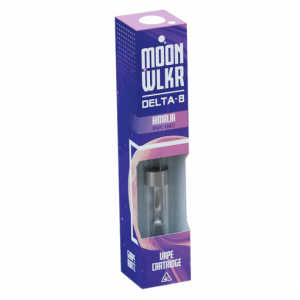 Delta 8 Vapes
Moonwlkr has one of the best selections of Delta 8 vape products on the market. Their vape cartridges and disposable vape pens are reasonably priced and include plant-based terpenes for customized effects.
The primary benefit of vaping Delta 8 versus tinctures or gummies is that you'll feel the effects almost immediately. When first starting out, we recommend that you just take one puff. You'll likely feel the effects right away and you can decide what amount is right for you.
Delta 8 Disposable Vape Pens – Available in a variety of flavors and ready for use right out of the box. Each pen contains 800 milligrams of Delta 8 and lasts about 300 draws or puffs.
The disposable vape pens are great for on the go and you don't need a separate device with these. These pens are preloaded with Delta 8 distillate plus terpenes and are rechargeable but not refillable. 
Delta 8 Cartridges – Traditional vape cartridges are also available in a variety of flavors and terpene options. These disposable carts fit on any standard "510 thread" vape pen which is not included. Each 1 milliliter cartridge contains 800 milligrams of Delta 8 THC.
15% off with code CBDOILUSERS at checkout
Other Products
Full Spectrum CBD Tinctures – If you're looking for products without Delta 8, Moonwlkr has a couple of different options. These include a traditional full spectrum CBD tincture and drops that feature high levels of CBG and CBN. 
CBD Gummies – Moonwlkr also offers a variety of innovative gummies featuring different cannabinoids. The CBD:CBG gummies are formulated for relief from pain and inflammation. Other options include CBD:CBN gummies for more restful sleep and CBD: Ashwaganda gummies for stress relief. 
Moonwlkr Free Sample of Delta 8 Gummies
For a limited time, you can get a "free" sample of the Moonwlkr Delta 8 gummies by just paying a small shipping fee. The sample pack includes 4 gummies with 25mg of Delta 8 per gummy. That should be enough for you to find out if you like this brand.
Third Party Lab Reports & Testing Results
Moonwlkr posts copies of recent third party lab reports for each product on their website. You can view the third party lab reports by visiting the Moonwlkr website and clicking on the "Lab Tests" link in the top menu.
Moonwlkr User Reviews
Moonwlkr reviews by real users are shown in the comments section below.
If you've used Moonwlkr products, please take a few minutes to write your own Moonwlkr review. Your review will help other users get informed and find the products that are right for them. Thank you!