Social CBD (formerly Select CBD) was founded in May 2017 and has quickly grown to become one of the most respected brands in the industry. Their tinctures and topicals are especially popular and come in a wide variety of flavors and blends.
If you're looking for a high-quality CBD product with no detectable THC, then Social CBD certainly merits your consideration.
Product line: Broad spectrum and isolate CBD oil drops, gel caps, topicals and pet oils
Tincture carrier oil: Coconut MCT oil
Prices: Mid-range (as low as $0.08 per mg of CBD)
Shipping cost: Free shipping on orders over $99
Countries served: U.S. only (all 50 states)
CBDOilUsers.com is reader-supported. If you make a purchase using links on this page, we may earn a commission at no extra cost to you. Learn more.
20% off with code CBDOILUSERS at checkout
Isolate Drops – CBD oil drops from pure CBD isolate (0% THC) are available in 30ml bottles. Potency options include 500mg, 1000mg and 2000mg. Flavor choices: lavender, lemon ginger, peppermint and unflavored. Carrier oil is fractionated coconut oil (MCT).
Broad Spectrum Drops – these drops include other cannabinoids and terpenes but have 0% THC based on manufacturer lab testing. Available with 375mg, 750mg or 1500mg of CBD in a 30ml bottle. Flavor options: meyer lemon, pomegranate tea, vanilla mint and unflavored.
CBD Gel Capsules – gel capsules from pure isolate (0% THC) with 33.33mg of CBD per capsule. Available in a variety of formulations including Balance, Recover, Boost and Rest. 30 gel capsules per bottle.
Topicals – Social CBD's line of topicals includes foot renewal cream, a muscle rub and CBD transdermal patches. All contain 0% THC.
CBD Oil for Pets – the pet tinctures are similar to the "human" version full spectrum tinctures except they are available only in 750mg strength. Flavor options: chicken, peanut butter, bacon and unflavored.
How to Use the Social CBD Coupon Code
Social CBD makes it easy to enter your coupon code and then complete the checkout process.
First, add all the products that you want to purchase to your cart. Then click the shopping cart icon to view your cart. Below the list of items in your cart, you'll see the "Have A Promotional Code?" message. Enter the coupon code in the field and click the "apply coupon" button.
You should see the savings from the coupon code in your "Cart Totals" and can then complete the checkout process.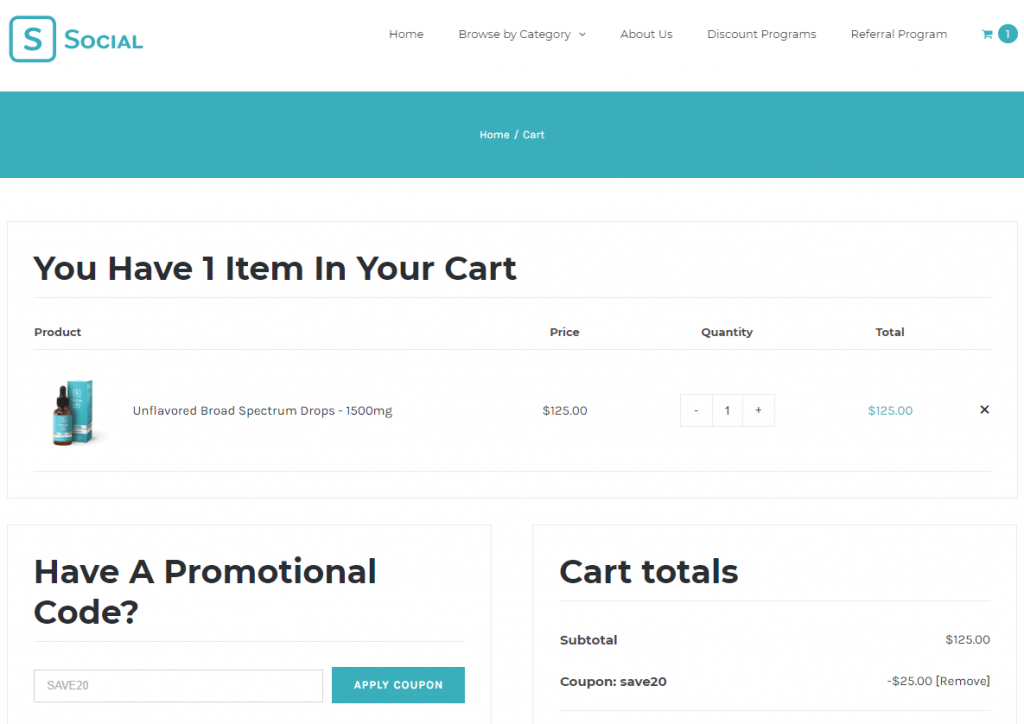 Are there any restrictions on the coupon code?
No, the coupon code "CBDOILUSERS" will apply savings to all products.
Is there any dollar limit on how much I can save?
No, there is no limit on savings from using the Social CBD discount code.
What if the coupon code isn't working for me?
If you have any issues with the checkout process, you can contact Social CBD customer service for assistance. You can reach them via email at [email protected] or by using the contact form on their website through the "Support" link.
20% off with code CBDOILUSERS at checkout
Social CBD Reviews by Users
Social CBD reviews by real users are shown in the comments section below.
If you've used CBD products from Social CBD, please take a few minutes to write your own Social CBD review. Your review will help other users get informed and find the CBD products that are right for them. Thank you!