There are known to be at least 113 different chemical compounds that are produced by the cannabis plant. You're probably already familiar with CBD (cannabidiol) and THC (tetrahydrocannabinol) which are the most well known cannabinoids. 
Although cannabis research is still evolving, it's known that each individual cannabinoid has unique potential therapeutic effects. Recent advancements in cannabis science and extraction have led to the creation of new products featuring different major cannabinoids. This is an exciting development since it gives consumers more choices and opportunities to find products that will work best for them.
For example, you may have already noticed the introduction of new products with higher levels of CBG (cannabigerol) and CBN (cannabinol). Rounding out the list of major cannabinoids is CBC (cannabichromene). Not surprisingly, products featuring CBC are also now showing up on the market.
The purpose of this article is to explain what CBC oil is, how it differs from the other popular cannabinoids and why you may want to give it a try..
CBC oil is one of the 5 major cannabinoids that is naturally produced by and extracted from cannabis plants. Although it may be the least well known, CBC is actually the second most abundant cannabinoid from cannabis that is grown to be high in THC.
CBC is most often studied for its potential anti-inflammatory, anti-bacterial and anti-fungal effects.
The precursor to CBC is produced at maximum amounts early in the plant's life cycle. This raw version known as CBCA then converts to CBC when heated through a process called decarboxylation. The conversion chart below shows how this process occurs.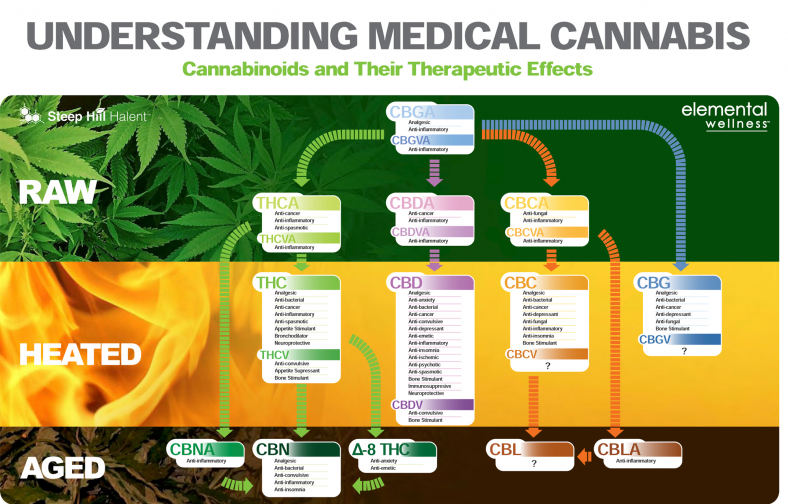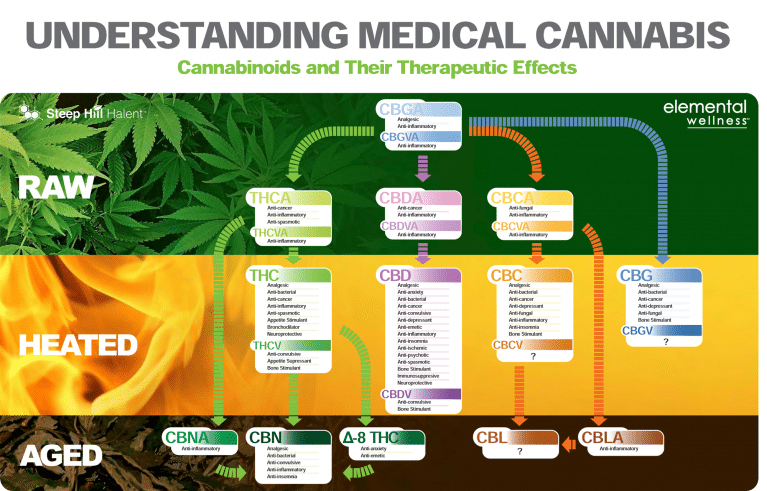 How is CBC Grown and Extracted?
CBC is produced naturally by cannabis plants grown for either high THC content (marijuana) or high CBD content (hemp). If the plant is harvested after its full growth cycle, CBC will be present but at relatively low levels.
If you are currently using full spectrum CBD products, you will typically see detectable levels of CBC and other cannabinoids such as CBG and CBN in the third-party lab reports.
New innovative techniques in growing and extracting cannabis have made it possible to achieve higher levels of CBC in the final product. This usually involves harvesting much earlier and using a special cold water extraction method.
What's the Difference Between CBC and CBD?
CBC and CBD are alike in many ways. They both interact with the human body's endocannabinoid system and your cannabinoid receptors to promote homeostatis or a general sense of well-being. Neither of them will get you high or have the intoxicating effects that are commonly associated with THC. 
The main difference between them is that they each have unique potential therapeutic benefits. They share many of the same analgesic, anti-bacterial and anti-inflammatory properties. More research is needed for definitive answers on which cannabinoids or combination of them may be best for particular concerns.
What are the Potential CBC Benefits?
Based on the limited research to date and feedback from users, products that are high in CBC may be useful for reducing aches and discomfort, improving mood, and fortifying the skin. As is true with all cannabis products, CBC products have different therapeutic effects on different people. So you'll have to do some experimentation of your own.
Given the anecdotal feedback, CBC may be something worth trying if traditional CBD products alone aren't giving you the results that you are seeking.
What Does the Research Say?
Medical studies into the effects of CBC and other cannabinoids have been limited to date. Given the growth in popularity of cannabis-based extracts in recent years, it's expected that more research is coming.
In the meantime, the clinical research of CBC is mostly limited to studies performed on mice. While these studies certainly don't imply they will have the same results for humans, they may help spur further research and human trials.
Chronic Pain – a 2011 study involving rats concluded that CBC and CBD helped to relieve pain and that both compounds may "represent useful therapeutic agents with multiple mechanisms of action."
Inflammation – in a study conducted in 2010, CBC reduced inflammatory actions in mice. Researchers also concluded that the combination of CBC and THC led to enhanced anti-inflammatory actions. In a separate study on mice published in 2012, CBC was credited with "selectively reducing inflammation-induced hypermotility in vivo".
Healthy brain function – in a 2013 study, CBC was found to have a positive effect on the viability of NSPCs (neural stem progenitor cells) which are an "essential component of brain function in health and pathology."
Depression and mood – CBC exhibited significant antidepressant-like actions in a study from 2010. It led the researchers to conclude that CBC and other cannabinoids "may contribute to the overall mood-elevating properties of cannabis."
Acne – a 2016 study concluded that CBC, CBDV and THCV "show promise to become highly efficient, novel anti-acne agents."
Are There Any Potential Side Effects?
More research is needed to fully understand what, if any, side effects may be associated with CBC. Based on the information available and feedback from users, CBC is just as safe as CBD. Like CBD, mild side effects such as headaches or nausea are generally caused by taking too much. If you experience any of these or a general worsening of symptoms after starting to take CBC oil, it's typically recommended that you reduce the amount that you're taking.
If you're taking prescription medications, you should check with your doctor before using any CBD or CBC product. This is especially true if you are taking a prescription drug that is metabolized by the liver or has a grapefruit warning on the label. It's still not known if CBC is metabolized the same way as CBD. But it's definitely better to err on the side of caution when it comes to potential drug interactions.
There are no official dosage guidelines for CBC just as there aren't any for CBD. The optimal dosage for everyone is different and it often takes some experimentation to find the amount that will work best for you. 
Based on user feedback, the most important thing is to start low and increase slowly over time until you find your personal "sweet spot" dose. If you're taking CBC in addition to other CBD products, you'll want to be mindful of the combined amount of cannabinoids that you're consuming.
If you're currently using a full spectrum CBD oil, then you're likely already getting some CBC. But for the reasons explained above, the levels will be low. You can check the amount of CBC in your current product by looking at the cannabinoid profile of its third-party lab report.
If you're interested in adding a higher concentration of CBC to your regimen, you have a couple of options. 
Get a full spectrum product with higher levels of CBC. These products can be harder to find than regular CBD oils. But several safe and reputable brands are now starting to offer them. Before buying a product, be sure to check the third-party lab reports and ingredients list to make sure that it's a good fit for what you are looking for.
Use CBC isolate powder as an additive. CBC isolate is typically 99%+ pure so a little will go a long way. You can add it in small amounts to your current CBD product, make your own tincture or mix it into your coffee or smoothie. If you're going to add it to a beverage, it's best for it to be something that includes milk or another fat-soluble substance for the best absorption rates.
What are the Best CBC Oil Products?
There isn't a single brand that will be the "best" for everyone. Finding the CBC product and the amount that you should take for optimal results will likely require some experimentation and patience. 
Given the growing popularity of CBC-dominant products, we expect that consumers will have more choices in the near future. When choosing a supplier, it's important to choose a reputable brand that makes third-party lab reports easily accessible on their website.
CBDOilUsers.com is reader-supported. If you make a purchase using links on this page, we may earn a commission at no extra cost to you. Learn more.
20% off with code CBDOILUSERS at checkout
Full spectrum CBC tinctures (60 mg/ml) and gelcaps (15mg per capsule). Available in 300mg, 900mg or 1800mg of total cannabinoids. Free shipping on all U.S. orders. Also ships ships internationally.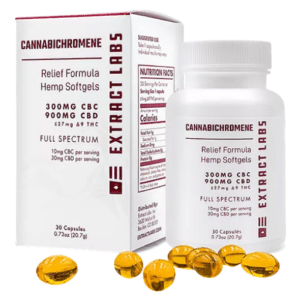 25% off with code CBDOILUSERS at checkout
Full spectrum CBC softgel capsules with 30mg of CBD and 10mg of CBD per capsule. Free U.S. shipping. Also ships internationally.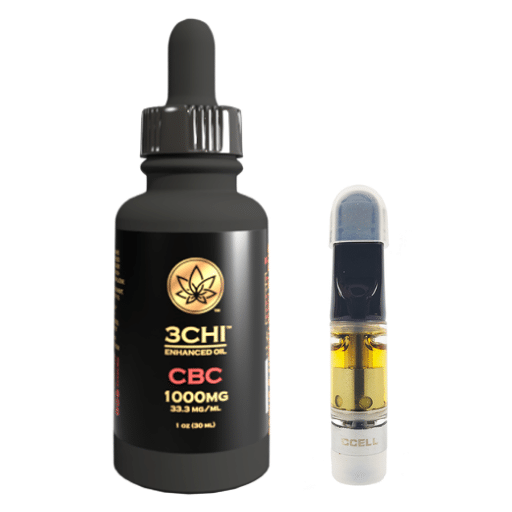 No discount code currently available for this brand
Broad spectrum CBC tinctures (available in 250mg, 500mg or 1000mg), vape cartridges and CBC isolate. Free shipping on orders over $99. U.S. only.